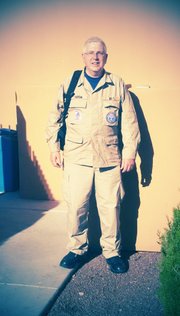 It was a harrowing scene: hundreds of children lying on mats on holding-cell floors, using aluminum blankets to keep warm. But Dan Purdom had a job to do.
Purdom, the medical director at Lawrence's Heartland Community Health Center, was at the Border Patrol facility in Nogales, Ariz., recently to provide medical care to some of the tens of thousands of unaccompanied Central American minors who have been crossing the border into the U.S. illegally the past few months to flee violence and poverty back home.
Purdom, a member of the National Disaster Medical System, was called into action late last month as part of the federal effort to care for and shelter the boys and girls. The mission consisted of providing the kids with any needed medical care as well as the appropriate vaccinations.
"There are two parts to it: One is making sure the child is healthy," said Purdom, 55. "Another is making sure they're not going to be exposing our citizens in the States to communicable diseases, so we're also screening for things like tuberculosis."
At a field clinic at the facility in Arizona, doctors provided well-child visits to hundreds of children a day, vaccinating them and ensuring they were eating and drinking appropriately. The kids appeared to be in overall good health, Purdom said.
"Children who travel the length of Mexico are probably in pretty good shape and otherwise healthy. It's a very arduous journey," he said, adding: "The kids are, for the most part, incredibly sweet. They're adorable kids. A lot of them reminded me of my kids."
This wasn't Purdom's first medical disaster mission. He helped provide medical services to people who migrated to Kansas City, Mo., because of Hurricane Katrina. He responded to Haiti after the 2010 earthquake. He cared for residents of Joplin, Mo., following the 2011 tornado. As Purdom explains, the National Disaster Medical System is like the National Guard or Army Reserves but for medical professionals responding to crises.
This time, Purdom said he didn't see the psychological trauma and shock he usually observes of victims of natural disasters. And he noted that the conditions at the holding facility may have been better than what the children were used to in their travels across desert-like terrain.
Purdom left for Arizona on June 20 and came back July 3, returning to Heartland this week. While he has no plans to go back to the border, he doesn't see the effort there ending anytime soon.
"It's going to be a long summer," said Purdom, who lives in Liberty, Mo. "My own sense is that until we figure out a way to convince families to keep their children home in Central America, this is going to continue to be a problem for us."
"I's been a great humanitarian response from the part of the United States," he added. "We are treating children the way we would want our children to be treated if they were in similar circumstances. But I think this mission is going to go on for quite some time."
Copyright 2018 The Lawrence Journal-World. All rights reserved. This material may not be published, broadcast, rewritten or redistributed. We strive to uphold our values for every story published.