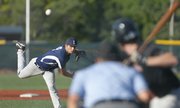 The Lawrence Raiders youth baseball team looked on the verge of a big rally in the early innings against Next Level Baseball on Tuesday evening.
The Raiders had runners into scoring position after reaching on errors, but that timely hit never came in a 5-0 loss at Lawrence High. The Raiders were held to one hit and struck out 11 times.
"They were throwing strikes," said Drew Green, who had the Raiders' only hit, a double in the third inning over the right-fielder's head. "They forced us to swing the bat and we missed a lot. It's pretty much what it came down to.
"It's a confidence thing and we weren't very locked in today, so that's probably the biggest thing."
NLB and the Raiders almost threw a new pitcher each inning as they tried to conserve arms for multiple games this weekend, but the Raiders couldn't hold off a rally in the fourth inning. Following a two-out walk, NLB had three straight hits to score two runs.
In the sixth, NLB used a two-run triple and a sacrifice fly to stretch its lead to five.

Meanwhile, the Raiders only managed two base runners after the third inning — walks drawn by Jacob Seratte and Nolan Prochaska.
"That's been our Achilles' heel all summer long," Raiders coach Brad Romme said. "It's hard to win a game with one hit. We hit a couple of balls hard, but they just did a good job of keeping us off balance up there."
In each of the first three innings, the Raiders stranded runners in scoring position.
What's been the biggest reason for the struggles at the plate?
"The only thing I'm real disappointed in is that we're not hitting the fastball early in the count," Romme said. "When you get down (in the count), even a guy that's just an average guy up there (on the mound), you're at his mercy. I think if we just get our foot down on the ground and getting after fastballs, we'll be all right."
The Raiders will play four games over the weekend in Pittsburg, starting at 2:30 p.m. Thursday.
---
Next Level 000 203 0 — 5 8 2
Raiders 000 000 0 — 0 1 0
L — Ryan Cantrell.
Copyright 2017 The Lawrence Journal-World. All rights reserved. This material may not be published, broadcast, rewritten or redistributed. We strive to uphold our values for every story published.