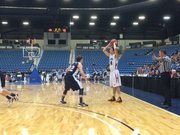 Eudora High sophomore Mitchell Ballock proved he was one of the top players in Kansas last winter, when he helped lead the Cardinals to a Class 4A-II state championship. Last week, he proved he can hold his own with some of the nation's best.
Ballock spent four days playing in Golden State Warriors point guard Stephen Curry's select camp in Alameda, California. Only about 20 of the top high school guards in the country, and a couple from overseas, were invited, and Ballock shined against some of the elite players.
College and high school basketball recruiting analysts were raving about his performance on the court against players who are two grades above him and how well he can shoot the ball.
He was the only player who earned an invitation from Kansas and one of six players from the 2017 graduating class. Also at the camp were Kansas University recruits Terrance Ferguson and Malik Newman.
"Kansas fans, I hate to get you too excited," ESPN basketball analyst Fran Fraschilla tweeted Wednesday, "but … Eudora soph, Mitch (Ballock) put on a shooting show at @StephenCurry30 Select Camp. NBA range."
Ballock, a 6-foot-4 left-handed wing, won a three-point-shooting contest from the NBA line and was recognized with the "best shooter" award at the end of the camp. He averaged more than 20 points per game for Eudora last season.
"I was really happy with myself," Ballock said. "Obviously when you've got guys like Steph, he can shoot the ball, and (Steph's father, and 10-year pro) Dell Curry, he can shoot. When they're giving you tips about how to shoot it and what you're doing wrong on following through or something like that, then it helps you. Once you get into a rhythm, you're just feeling it and you start shooting well. It just all happened to go well for me."
Ballock was invited to the camp after his play this spring on the AAU basketball circuit caught the eyes of some evaluators affiliated with Under Armour, which sponsored Curry's camp. Once the players were selected, Curry sent them a video through direct message on Twitter with a personal invitation.
At the camp, players would play from 9 to 11 in the morning and 2 to 4 in the afternoon, going through drills and then competitive environments, whether it was shooting contests, 4-on-4 matchups or simply 1-on-1.
"It was cool," Ballock said. "It was kind of like a thing where you could see how you match up against some of the nation's best at your position … see how they play, how they move and try to adapt that into your game. You learn stuff from them, and they learn stuff from you, and it's just good to be around guys who want to do what you want to do later in life."
Ballock has played in other NBA camps, including Los Angeles Clippers point guard Chris Paul's camp in North Carolina, but was impressed with how hands-on Curry was and how he interacted with all of his campers.
"He did every workout with us. He stayed at our hotel, ate dinner with us, went through film sessions with us," Ballock said. "He was just there with us all the time … went to the gym with us on the bus. He's a great player and all that, but he's an even better person, and it's just cool to be around a guy like that."
Curry kept the camp at an "intense" pace with high-intensity workouts, but also impressed Ballock with his approach to workouts and how he watched film to dissect his game.
With a big recruiting window approaching this month for college coaches to evaluate his game and the biggest month of the AAU season, Ballock said he has plenty of confidence after Curry's camp.
Oh, yeah, it was also the perfect way to spend his 16th birthday, which was the final day of camp.
"That was a good way to spend it," he said. "It was cool. ... It was different for me. A lot of good talent, a lot of players. You don't get a lot of opportunities like that every day."
Copyright 2018 The Lawrence Journal-World. All rights reserved. This material may not be published, broadcast, rewritten or redistributed. We strive to uphold our values for every story published.