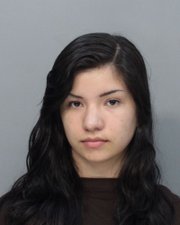 More coverage: Harold Sasko homicide
Sarah B. Gonzales McLinn, the 19-year-old woman charged with killing a Lawrence businessman with whom she shared a home, is now back in Douglas County and awaiting her first appearance in court on Monday.
On Saturday, Douglas County District Attorney Charles Branson said that McLinn was turned over to the Sheriff's Office and booked into Douglas County Jail this morning. Branson said that McLinn was not expected back until this evening. A Douglas County Jail official confirmed that McLinn was booked at 8:47 a.m. She is being held on a $1 million bond.
Lawrence Police Department detectives who went to Florida last week to talk to McLinn after her Jan. 25 arrest at Everglades National Park drove her back to Lawrence.
McLinn is charged with first-degree murder in the death of Harold M. Sasko, whose body was found on Jan. 17 at the home they shared in the 2900 block of West 26th Street. Branson said that McLinn will appear before District Judge Paula Martin in Douglas County District Court at 1:30 p.m., Monday.
Copyright 2018 The Lawrence Journal-World. All rights reserved. This material may not be published, broadcast, rewritten or redistributed. We strive to uphold our values for every story published.