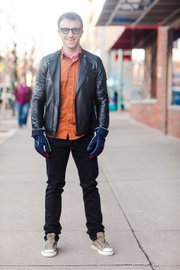 Age: 28
Relationship status: Taken
Hometown: El Dorado
Time in Lawrence: Since August

Occupation: I'm fortunate to be working as a sales rep at UniFirst.
Dream job: Before law school, my girlfriend and I tried to start a fashion distribution business exporting brands to Mongolia, which failed. My ambition is to try something more creative like that down the line.
What were you doing while scouted? Heading to a family dinner.
Describe your style: It evolves a lot. In the fourth grade, I had this shirt that I bought that made me know that I really liked style and color. It's been a result of a lot of experimentation and maturing. ... I would say it's pretty original.
Fashion trends you love: I don't believe there should be any gender differences or barriers of any kind in the fashion world. What I really like are skirts that are worn in the form of kilts or skirts and men in tights/tights-shorts combo. I also like camo.
Fashion trends you hate: There's not much that I don't like. There's something for everybody. I'm a pretty open-minded person.
Fashion influences: At 18, my fashion horizon expanded when I started buying clothes from small boutiques that had an online presence from places in Brooklyn to San Fran or Hawaii. Now, I just follow a lot of fashion blogs. I need to travel more because there is so much more to be exposed to.
What would you like to see more of in Lawrence? More independent artists/music groups.
Less of? Everyone can do their own thing, but I wish people would be more original.
Whom do people say you look like? Sean Penn and Woody Allen.
What types of music do you like? Hip-hop and electronica.
Tell us a secret: I want to rock a skirt before the trend is over.
Copyright 2018 The Lawrence Journal-World. All rights reserved. This material may not be published, broadcast, rewritten or redistributed. We strive to uphold our values for every story published.