Photo Gallery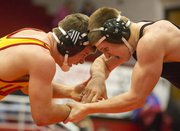 City Wrestling Showdown
Lawrence 42, Free State 27
106 pounds: Cameron Shanks, FS, def. Xavier Kenney 7-3
113: Quailan Fowler, FS, won by forfeit
120: Jhon Jacob, LHS, def. Sid Miller 6-4 (OT)
126: Arlo March, FS, pinned Cade Burghart
132: Garrett Girard, LHS, pinned James Wensel
138: Maurice Jacobs, FS, pinned Zech Warren
145: Tucker Wilson, LHS, pinned Wyatt Stevens
152: Cy Burghart, LHS, pinned Nick Jacobs
160: Colton Steele, FS, pinned Jeff Wescoat
170: Ryan Bellinger, LHS, def. Sam Skwarlo 3-2 (OT)
182: Hayden Husman, LHS, won by forfeit
195: Alan Clothier, LHS, pinned Matt Stalkfeet
220: John Drake, LHS, def. Nick Eddis 17-15
285: Alex Jones, LHS, def. Tyler Sampson 7-1
-->
-->
Lawrence High's Johnny Drake wasn't going to let anything stand in his way during Wednesday night's City Showdown. Not even a black eye and a busted lip.
Drake, wrestling up in the 220-pound class instead of his usual 195, took a two-point lead into the final period against Free State's Nick Eddis. Both wrestlers exchanged three lead changes in a physical last two minutes before Drake earned a close victory, which helped the Lions to their 42-27 victory at LHS.
"I think he really stepped up and showed improvement from how he wrestles in practice to how he wrestles on the mat," said senior teammate Alex Jones (285), who also earned a win by decision.
The Firebirds rolled to an early 21-9 lead, before Lawrence responded by winning seven of the final eight matches, including three by pinfall.
"(Free State) came out with a vengeance," LHS coach Patrick Naughton said. "They came out right off the bat and set the tone, punched us right in the mouth. It took us awhile to wake up, but we responded. That's what you like to see, especially how you respond."
Lawrence's Tucker Wilson (145) and Cy Burghart (152) helped LHS counter its slow start by earning back-to-back first-period pins to tie the match at 21. Free State senior Colton Steele (160) broke the deadlock with a pin before the Lions won the last five matches. Ryan Bellinger (170) fought to a sudden-death victory in overtime, and sophomore Alan Clothier (195) won with a pin in the first period.
Jhon Jacob (120) also had a sudden-death win overtime, which can motivate a team almost as much as getting a pin.
"It's dramatic," Naughton said. "You're out there and battling for seven or so minutes. It just comes down to either a good shot or one mistake. That's the whole match. We were able to come out ahead on two of those, which was good. We can use that to build on to our next tournament."
FSHS sophomore Cameron Shanks (106), Arlo March (126) and Maurice Jacobs (138) led the Firebirds to their early lead with a win by decision and two pins, respectively.
"The kids wrestled amazing," Free State coach Mike Gillman said. "The highlight for me personally was Cameron Shanks at 106, a sophomore that beats a senior on his senior night. That's amazing. He's been battling a knee injury, too, and for him to tough it out, that's pretty cool."
Lions senior Garrett Girard (132) had the first of Lawrence's pins, hoping to set the tone after the sluggish start.
"I came in ready," Girard said. "I knew what I had to do for the team. I came in there with the mind-set to get the pin, and I went and did it."
Although the Lions get back to tournament action this weekend, they hope to savor this victory for at least a little longer.
"It's really exciting. I got a lot of friends and family who go (to Free State)," Drake said. "A lot of bragging rights."
Copyright 2018 The Lawrence Journal-World. All rights reserved. This material may not be published, broadcast, rewritten or redistributed. We strive to uphold our values for every story published.