Leaving their Wakarusa Festival fate in the hands of anyone who wanders into the Bottleneck on Saturday, five local/regional musicians will perform a small taste of what they'll bring to Mulberry Park (June 5 through 8) if they're sent there. Each attendee will receive one raffle ticket ($5 cover), which they can use to vote for their favorite band of the night. The winner will be announced after everyone has played.
If you go
The Waka Winter Classic, where five area bands will compete to play in this summer's Wakarusa Music Festival in Arkansas, will be 9 p.m. Saturday at the Bottleneck, 737 New Hampshire St. There is a $5 cover.
The Lawrence-born festival can only host one competitor from the Waka Winter Classic. Who's it going to be?
Chase Compton, hip-hop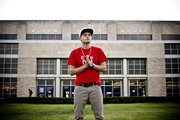 Starting at age 17, Chase Compton wasted no time embracing a freestyling talent that seemed to come natural to him.
"I just picked it up," Compton says. "This is the specific art that I'm supposed to do. In the end, I always want to do music."
Now, three years later, his rhymes reflect the growth he's experienced since, whether it's a track about partying or more serious experiences he's encountered. He opened for Kid Ink, Mac Miller, MGK, Lil B and others for Section 8 at Crossroads for his first-ever show in 2011, so he isn't intimidated by a crowd of unfamiliar faces.
As locals, Chase and his older brother Douglas have wanted to attend the Wakarusa Festival since it was held at Clinton Lake Park, recalling the days cars were piled up in the streets, and random travelers would play Frisbee in the middle of the road. This is his opportunity to be a part of the madness.
"I love festivals all around the world, but this is where we're from," Compton says.
Expect his two singles "Wanna Go" and "Larry Brown" to be in the song lineup, available on Soundcloud.
Cowgirl's Train Set, boogie jazz-infused bluegrass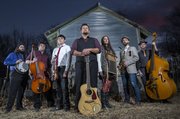 Cowgirl's Train Set evolved from a two-piece derivative bluegrass band started by Charles Buck (banjo and vocals) and Mike Calvillo (guitar and lead vocalist) into an organic seven-piece incarnation of jazz-infused bluegrass after a cello, harmonica and saxophone were added to the mix.
Another townie-based band, Cowgirl's signed up to compete in the Waka Winter Classic last year, but failed to select Lawrence as the preferred region. They were offered an audition in Des Moines, but for various reasons had no way of making it there. Luckily they get another (more convenient) shot at it at this year, and feel confident about their chances.
"From what I can tell the other bands more or less fit into specific genres, whereas we bridge several different influences and genres and sort of boil it all together," Buck says. "If you want your bluegrass we've got your bluegrass; if you want ballads we play that; if you want jazzy swing, we play that too."
Get ready for nontraditional high-speed, high-octane, all-inclusive, folky, jazzy, boogie Lawrence fun.
Dsoedean, indie rock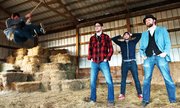 With comparisons to Built to Spill and Modest Mouse, indie rock Dsoedean (dee-so-deen) is looking to gain new fans taking their act to Arkansas if they are the chosen band. They have no doubt it will be hard for some people to stand still when they play explosive, emotion-ridden songs with punchy and often booming drums. The competitive aspect of the show, however, isn't something lead singer and guitarist Zale Bledsoe is used to.
"I've never really been that competitive with music," Bledsoe says. "It's always been something that helps me feel better about life or get through some stuff."
Music is so individual to the person, he says, that it's hard to decide which band is the best. Dsoedean's grand strategy: show up, play and, you know, see if people vote for them. Bledsoe refuses to say "vote for us because we rule."
"It's not a sport," he says. "It's not like, 'we're going to go out and score more points and annihilate the competition.'"
Much like the sentiment of their latest album's title name, Continue to Move, they'll play their hearts out and move on from there.
Flannigan's Right Hook, Irish "bluegrassical"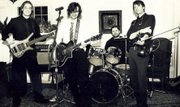 This one will no doubt throw Lawrence for a loop. It's got the bluegrass vibe, with an Irish twist, as well as Shane Borth's classically trained (since the age of 4) violinist skills. Flannigan's Right Hook is what they like to call "bluegrassical" music.
The other two members, Cameron Russell on guitar and vocals, and Michael Cochran on drums, are both Irish, which is how the early years Irish covers turned into Irish-infused modern covers of Pearl Jam, Neil Young and Tom Petty.
"The more we played those songs, the more people dug it because we played them all with an Irish, bluegrass twist," Borth says. "That's what started getting us a lot of fans. The breadth of our style."
As you can imagine, this music gains them a fanbase that includes 18-year-old Flogging Molly fans to 50-year-old Irish aficionados. Their first all original record came out five months ago, the main reason for competing at Waka.
"Once the people that are there get a chance to taste our music, they're going to completely love it," Borth says.
Hearts of Darkness, second wave Afrobeat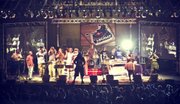 This 14-piece powerhouse takes traditional Afrobeat and throws in funk, soul and hip-hop while maintaining a dark, gritty undertone. Progressing from solely performing covers of Fela Kuti, Antibalas and Kokolo, to writing original music influenced by the Kansas City rock and jazz scenes, HOD claim to be second wave Afrobeat.
"Imagine Fela Kuti, James Brown, John Prine, Count Basie and Les Izmore got together one night to capture the essence of their visions into one fantastic collectively groovy concoction of harmonious rebellions filled with the continuum of the vast experiences of our earthly brothers and sisters," says vocalist Erica Townsend.
Wakarusa Festival attendees saw this outfit play two summers ago, but they are itching to make the road trip, wander around to see as many bands as they can, and take their sound beyond Lawrence/KC (three of their members are Lawrence residents).
"We feel cozy with Waka and can't wait to get down there again," Townsend says. "We love the challenge of winning over new audiences and playing for fresh ears."
Copyright 2018 The Lawrence Journal-World. All rights reserved. This material may not be published, broadcast, rewritten or redistributed. We strive to uphold our values for every story published.