Photo Gallery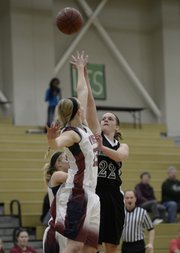 Free State girls basketball vs. Topeka Seaman
Box score
FREE STATE (42)
Adriana Jadlow 2-3 4-8 8, Madison Piper 4-12 0-0 9, Scout Wiebe 3-14 0-0 6, Millie Shade 6-14 1-1 17, Hannah Shoemaker 1-1 0-0 2. Totals 16-44 5-9 42.
TOPEKA SEAMAN (51)
Delaney Hiegert 0-0 1-2 1, Cassidy Henry 1-4 0-0 3, Mallory Searcy 3-9 3-3 9, Jeris Thomas 3-4 0-0 6, Rachel Heald 4-5 2-3 10, Tatyana Legette 3–13 0-2 8, Brook McMillin 6-15 2-3 14, Dani Spence 0-1 0-0 0. Totals 21-51 8-13 51.
Topeka Seaman 10 9 16 16 — 51
Free State 19 9 5 9 — 42
Three-point goals: Topeka Seaman 1-8 (Henry); Free State 5-19 (Shade 4, Piper). Fouled out: None. Turnovers: Topeka Seaman 8, Free State 18.
-->
-->
Everything clicked in the first half for Free State High's girls basketball team. But in an instant, it all changed.
The Firebirds took a nine-point lead into halftime, but only shot 27 percent in the second half and lost to Topeka Seaman, 51-42, in the opening round of the Firebird Winter Classic at FSHS.
Seaman (11-0, ranked No. 5 in Class 5A) opened the second half with a 10-0 run, forcing eight Free State turnovers in the third quarter.
"It was our mentality," said freshman Madison Piper, who fell just short of a double-double with nine points and nine rebounds. "We made a couple of turnovers, and we just lost control and played selfish."
In the fourth quarter, senior Millie Shade drilled a three-pointer, and junior Hannah Shoemaker converted a layup to cut Free State's deficit to two points with 3:38 remaining. The Vikings answered with an 11-4 run the rest of the way, as the Firebirds missed their next five shots.
"I don't think any team intentionally did anything different in the second half strategically," FSHS coach Bryan Duncan said. "I guess they just stepped up a little bit, and we weren't playing together as much in that second half as we did in that first half. We weren't making the extra pass and playing quite as disciplined."
The Firebirds (4-7) sprinted to a 17-6 lead midway through the first quarter, with nine points from Shade, who finished with a game-high 17 points. Free State went on a 9-0 run in the stretch, as the Vikings missed eight consecutive shots and turned the ball over three times.
"Our offense and defense, they went together," Piper said. "We did good things on defense, and the offense just flowed."
Free State shot 8-of-14 from the field in the first quarter against Seaman's 2-3 zone, with senior Scout Wiebe also contributing six points.
The Vikings responded with a 5-0 run to begin the second quarter, but Shade answered with a three-pointer before Adriana Jadlow made four free throws. In the last minute before the half, Jadlow grabbed a rebound and tossed it up the court to Shade, who sprinted past the defense. Shade converted the layup, giving Free State a 28-19 advantage at halftime.
"Millie hit a lot of shots in the first half. I think the reason was because the ball was going inside-out," Duncan said. "She was our primary offense tonight, and second half I think we got a little more stagnant."
Shade halted the Vikings run to begin the third quarter with a three-pointer, and Piper added a layup to tie the game at 33. Seaman's Tatyana Legette responded with a score to give her team a two-point lead into the fourth quarter.
Free State will face Sumner at 4:45 p.m. today at FSHS.
Copyright 2017 The Lawrence Journal-World. All rights reserved. This material may not be published, broadcast, rewritten or redistributed. We strive to uphold our values for every story published.