Annual meeting
The Lawrence Chamber of Commerce annual meeting social will begin at 5:30 p.m. on Friday, Jan. 31, at Abe and Jake's Landing, 8 E. Sixth St. The ceremony will start at 6:45 p.m., and there will be an Afterglow reception until 9:30 p.m. Tickets are $75.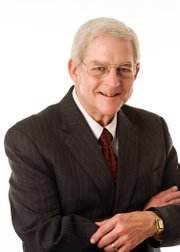 The Lawrence Chamber of Commerce will honor two Lawrence residents for their service to the community at its annual meeting on Jan. 31. Hank Booth, a one-time radio station owner, radio executive and on-air personality, will receive the 2014 Lawrencian Award, and Beverly Smith Billings, president of Alvamar Development Corp. and Alvamar Realty Inc., will receive the Athena Award.
In addition to establishing successful professional careers, both recipients have a long history of involvement in many local organizations.
"Community service is such an important part of life," Billings said. "I'm so appreciative of being honored in this way."
Lawrencian Award
Booth's radio career has truly spanned a lifetime.

Arden Booth, Hank's father, created Lawrence Broadcasters Inc. and put KLWN on the air in 1951. At 10 years old, Booth learned how to work the controls and play records, and he was given the task of signing on and playing the standard church programs every Sunday morning.
"I was at the radio a lot when I was a little kid. My mom died just before my 10th birthday, and my dad took my sister and me wherever he went," Booth said. "We were born and raised in the business."
During his high school and college years, Booth graduated to working as the late-night disc jockey, playing music from 7 p.m. to midnight.
When Booth came back to Lawrence after serving in the Army, he acted as general manager with Lawrence Broadcasters Inc. for more than 25 years. Even after he sold the business to Zimmer Radio Group in 1998, he remained working in various capacities.
Booth continues to host an hourlong program, "According to Record," every morning on KLWN.
"My career for life has been — and continues to be — radio," Booth said. "It's something that I've had in my soul since the time I was a little kid. I'm not retired. I'm still involved with a lot of different things, and I intend to be until I can't get out of bed anymore."
Throughout his career, Booth has devoted time to many local and state organizations, serving as a board member, founder or volunteer. Some of these organizations include: the Kansas Wildscape Foundation, the Douglas County Visiting Nurses Association, Big Brothers Big Sisters of Douglas County, Boys & Girls Club of Lawrence, Cottonwood Inc., the Lawrence Schools Foundation, the Lawrence/Douglas County Planning Commission, Douglas County Senior Services, Douglas County 4-H, the Lawrence St. Patrick's Day Parade committee, United Way of Douglas County, and the Lawrence Chamber of Commerce.
"I learned that volunteer mentality from my dad," Booth said.
Like his dad, Booth served as president of the Kansas Association of Broadcasters, and was inducted into the Kansas Broadcasting Hall of Fame.
Booth was also the public-address announcer at Kansas University men's basketball games from 2003 to 2007, and he acted as the interim president and CEO of the Chamber of Commerce from 2012 to 2013.
He has been recognized for his volunteer work with the Sertoma Club's Service to Mankind Award, the Lawrence Board of Realtors Humanitarian Contribution Award, and an induction into the Lawrence High School Hall of Fame, to name a few.
On Friday, the Chamber of Commerce will present Booth with his latest distinction. The Lawrencian Award, previously known as the Citizen of the Years Award, annually honors an individual whose commitment to Lawrence has lasted a lifetime.
"I was born in Lawrence and spent my whole life here," Booth said. "I could've gone other places through the years to do other jobs, but I know I've made all the right choices about where I live, where I work and the people I've worked for."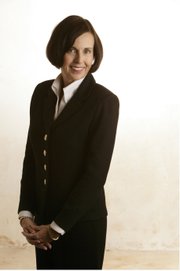 Athena Award
A group of previous award winners chose Beverly Smith Billings as the recipient of the Athena Award, which recognizes individuals who "excelled in their professions, gave back to their communities and helped raise up other leaders, especially women," according to the Athena International website.
After Billings graduated from Kansas University, she and Emily Taylor, the dean of women and a champion of women's causes, became friends. Through Taylor, Billings was inspired to become involved in the community, take leadership positions and tackle social issues, especially those regarding women.
"If I had to pick out the strongest female mentor in my adult life, it would be Emily Taylor," Billings said. "She was a force with which to contend. She challenged me and encouraged me."
Billings served on the Emily Taylor Center for Women and Gender Equity Advisory Board, and was a founding member of the Emily Taylor and Marilyn Stokstad Women's Leadership Lecture Series. She was treasurer for Friends of KU Women's Studies and an inaugural member of the Women Philanthropists for KU Advisory Board.
For her commitment to women's issues at KU, Billings was inducted into the KU Women's Hall of Fame in 2005 and was a KU Woman of Distinction in 2003-2004.
"I hope in some small way I can be an example for women on the importance of being a part of and giving back to the community, whether it's in the workplace or outside of it," Billings said.
Billings' involvement spreads across KU and into the larger Lawrence community.
Throughout her time in Lawrence, she has been involved with the Lawrence Memorial Hospital Endowment Association, United Way of Douglas County, Lawrence Rotary Club, Lawrence Library Foundation, Bert Nash Community Mental Health Center, Lawrence Chamber of Commerce, Lawrence Board of Realtors, Lawrence Arts Center and the Douglas County Historical Society, as well as many more local and university entities.
Though it may be hard to find the time, Billings said she hopes people will become involved in their communities, as she has.
"Even though you may not want to do it or may not feel like you have the skill set to do it, jump in and give it a try," Billings said. "It will be so broadening, you will learn a lot, and you will help other people along the way."
Copyright 2018 The Lawrence Journal-World. All rights reserved. This material may not be published, broadcast, rewritten or redistributed. We strive to uphold our values for every story published.