Photo Gallery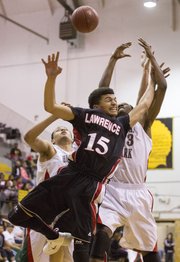 LHS boys vs. Highland Park
Box score
Lawrence High (48)
Justin Roberts 3-14 2-4 8, Connor Henrichs 3-5 1-1 8, Price Morgan 2-4 0-0 4, Ben Rajewski 0-1 0-0 0, Anthony Bonner 3-10 2-2 10, John Barbee 5-8 4-4 16, Logan Applegate 1-1 0-0 2. Totals 17-43 9-11 48.
Highland Park (47)
Jahmal McMurray 10-24 2-3 26, Eddie Hunt 1-4 2-4 4, Kameron Clark 1-4 0-1 2, Jahlil Osby 0-0 1-2 1, Daniel Kingcannon 1–3 0-0 2, Shaffee Carr 5-13 2-8 12. Totals 18-48 7-18 47.
Highland Park 12 20 11 4 — 47
Lawrence 19 8 4 17 — 48
Three-point goals: Highland Park 4-12 (McMurrary 4); Lawrence 5-12 (Bonner 2, Barbee 2, Henrichs). Fouled out: Applegate, Hunt. Turnovers: Highland Park 15, Lawrence 10.
-->
-->
Topeka — Lawrence High sophomore Justin Roberts drew a foul and stepped up to the free-throw line with the game tied and 3.4 seconds remaining in the Topeka Invitational Tournament championship against Topeka Highland Park on Saturday night.
With the crowd roaring, Roberts swished the second free throw after missing the first. Highland Park's Jahmal McMurray fired off a three-pointer before the buzzer, but the ball hit the front of the rim, and the Lions pulled out a 48-47 victory at Topeka High.
It was Lawrence's first championship win in the Topeka tournament since 2002.
"I would have been so mad at myself if I missed the second one," Roberts said. "I knew that those two free throws were the biggest that I would probably ever shoot, so I had to make at least one of them."
The Lions, who once trailed by 14 points in the third quarter, became the first team to knock off the Scots (12-1, ranked No. 1 in Class 5A by the Kansas Basketball Coaches Association) this season. Highland Park beat Lawrence, 60-56, earlier this season in the Blue Valley Shootout championship.
"We had a bad taste in our mouth after the Blue Valley Shootout. We really thought we should have won that game," LHS coach Mike Lewis said. "We had this on our calendar as an opportunity that we hoped we'd get."
With the Lions down by two, Roberts forced a Scots turnover and made a layup to tie the score with 3:18 remaining. Highland Park was able to go up 47-45 with 2:32 left after a layup, but John Barbee responded by drawing a foul and making two free throws.
Highland Park missed its next shot and attempted a putback on its next possession, and LHS held the ball for nearly two minutes before Roberts was fouled driving to the basket with more than three seconds left.
"He hasn't been great at the free-throw line this year," Lewis said. "But he's a tough player, and he's got ice in his veins."
McMurray, who scored a game-high 26 points, was able to get a clean look from the top of the arc at the buzzer. However, it bounced out, and Lawrence's bench sprinted out to the court to celebrate.
"I saw it go up, and I thought it was good," LHS junior Anthony Bonner said. "My heart dropped, and then I saw it hit the front rim and go out, and I had the biggest smile on my face. It feels so good to beat them."
The Lions (10-2, No. 7 in 6A) trailed by 12 points entering the fourth quarter before shooting 5-of-8 from the field. Roberts opened the quarter by making a jumper, before Bonner hit a three-pointer on the next possession cut the score to 43-36.
After Highland Park responded with a layup more than a minute later, LHS went on a 12-2 run over the last five minutes of the game. Barbee started the stretch with a three-pointer before Roberts hit a free throw and senior Connor Henrichs made a three-pointer to cut the score to 45-43 with 3:48 left.
"As soon as we get some shots rolling, then our defense picks up, and everything starts working well," said Henrichs, who scored eight points.
Although the Lions led 19-12 after the first quarter, Highland Park went on a 10-2 run over the final three minutes before the half to take a 32-27 halftime lead. LHS shot 3-for-14 in the second quarter while also turning the ball over three times.
In the third quarter, the Lions went 1-for-8 from the field and only scored four points, all from Barbee.
"We fought hard," Bonner said. "We were down 12 going into the fourth quarter. Not once did we let up. The coaches had confidence in us the whole game, and we just willed ourselves to a win."
The Lions will travel Friday to Leavenworth, making up a game that was postponed earlier this month due to bad weather.
Copyright 2018 The Lawrence Journal-World. All rights reserved. This material may not be published, broadcast, rewritten or redistributed. We strive to uphold our values for every story published.