Photo Gallery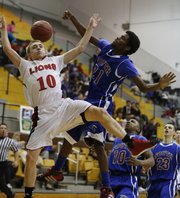 Lawrence High basketball v. Wichita South
Images from Thursday night's game between Lawrence High and Wichita South in the Topeka Invitational Tournament at Topeka High School.
Box score
Lawrence High (74)
Justin Roberts 8-12 9-9 27, Connor Henrichs 5-6 2-6 12, Price Morgan 2-5 1-1 5, Ben Rajewski 2-3 0-0 5, Anthony Bonner 3-5 0-0 7, John Barbee 4-8 6-6 14, Anthony Riley 0-1 0-0 0, Logan Applegate 2-4 0-0 4, Fred Brou 0-1 0-0 0, Tae Shorter 0-1 0-0 0. Totals 26-46 18–22 74.
Wichita South (60)
Jeremiah Hudspeth 0-2 1-2 1, Daran Lee 3-7 0-0 6, Dawson Gunter 4-10 0-0 8, Kadan Griffin 1-3 0-1 3, Shelby Harris 0–1 0-2 0, Jordan Moore 13-18 1-6 27, Zach Brown 2-5 0-0 5, Hunter Rogers 3-5 0-0 6, Tj Turner 2-2 0-0 4. Totals 28-53 2-11 60.
Wichita South 10 23 15 12 — 60
Lawrence 19 21 24 10 — 74
Three-point goals: Wichita South 2-7 (Brown, Griffin); Lawrence 4-7 (Roberts 2, Rajewski, Bonner). Fouled out: None. Turnovers: Wichita South 11, Lawrence 8.
Topeka — The undersized Lawrence High boys basketball players had trouble trying to stop Wichita South's post players on defense Thursday night. The Lions had no problems shooting over and running past the Titans on offense.
Lawrence shot 56 percent from the field and, despite giving up 12 offensive rebounds in the first half, eventually pulled away for a 74-60 victory in the first round of the Topeka Invitational Tournament at Topeka High.
"We shot it really well," said LHS senior Connor Henrichs, who scored 12 points and grabbed a team-high six rebounds. "We had a bunch of fast breaks, and we hit shots early, which helped us get on track for later in the game. Our defense, when we can get those transition buckets, it really starts getting our confidence going, and it carried throughout the game."
Lawrence (8-2) was able to extend a seven-point halftime lead by shooting 9-for-13 from the field in the third quarter, with 13 points coming from sophomore Justin Roberts.
The Lions were up 48-37 with 5:50 remaining in the third quarter when Roberts hit a three-pointer, drew a foul and made the free throw. After Wichita South responded with a free throw of its own, Roberts nailed a jumper, and junior Anthony Bonner drove past his defender for a layup on the next possession.
"I didn't really have a good shooting game my last game, so I wanted to make sure I focused on that," said Roberts, who finished with a team-high 27 points on 8-of-12 shooting.
LHS also started to tighten up defensively and double team the opposing post players in the second half, limiting Wichita South (4-6) to only three offensive rebounds. While forcing the Titans to shoot jump shots, the Lions grabbed rebounds and turned them into fast-break points.
"We pushed it in transition a lot," Roberts said. "We spread the floor out so we could find open guys, and that's what helped us out in the end so we could just get some open shots and make them."
When the Titans tried to put together a run in the third quarter, junior Logan Applegate scored on back-to-back possessions before Ben Rajewski traded three-pointers with Wichita South.
LHS was able to stretch its lead to 20 points in the fourth quarter, when Bonner drained a three-pointer with 4:38 left in the game.
"The second half we got some good transition baskets, some good defensive boards so we were able to get the ball out and get going," LHS coach Mike Lewis said. "Overall, I thought it was a good game. Not a great game, but a good game."
The Lions opened by making their first four shots from the field and jumping to an 8-2 lead. The Titans cut the score to 12-10 before LHS went on a 7-0 run to end the first quarter, highlighted by junior John Barbee's driving score right before the buzzer.
In the second quarter, the Lions were unable to stop Wichita South senior Jordan Moore, who scored 10 points on 5-of-6 shooting in the paint. He finished with 27 points.
"He had a good feel tonight, good player," Lewis said about Moore. "He was a big, thick kid who had good feet. We gave him some pretty good, easy looks. But then we started to compete with him and got a better feel for him in the second half."
Despite Moore's play in the second quarter, the Lions kept their lead by scoring on five consecutive possessions in the middle of the quarter.
The Lions will face K.C. (Kan.) Washington today at 6:45 p.m. in the semifinals.
Copyright 2018 The Lawrence Journal-World. All rights reserved. This material may not be published, broadcast, rewritten or redistributed. We strive to uphold our values for every story published.