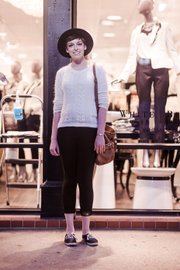 Name: Leah Bye
Age: 20
Hometown: Colorado Springs, Colo.
Time in Lawrence: About a year
Relationship status: I'm currently in a relationship.
Occupation: Part-time student, and I also work at Dillons.
Dream job: I'd love to be a translator. I speak Spanish.
What were you doing when scouted? Just doing some shopping.
Describe your style: It's mostly just relaxed and trendy. It's really comfortable with a little bit of style mixed into it.
Fashion trends you love: I like the wide-brimmed fashion hats, relaxed dresses and sweaters.

Fashion trends you hate: Leggings with Uggs will never look good on anybody.
Fashion influences: Mostly Pinterest but I just love looking at people here in Lawrence. There's so much style here.
What would you like to see more or less of in Lawrence? I would like to see more sharply dressed men and women in Lawrence. I think there's a tendency to be lazy when students are only going to class, but looking nice helps you feel better about yourself. By the same token, less sweats/athletic wear as everyday clothes.
Whom do people say you look like? Anne Hathaway
What type of music do you like? I like a little bit of everything. I really like mainstream indie music like Of Monsters and Men as well as some pop.  

Tell us a secret: I've never been on an airplane!
Copyright 2018 The Lawrence Journal-World. All rights reserved. This material may not be published, broadcast, rewritten or redistributed. We strive to uphold our values for every story published.