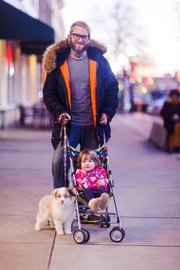 Names: Jeff and Penelope Hicks
Age: 34
Hometown: Lawrence
Relationship status: I'm in a long-term relationship with Penelope's mom.
Occupation: I don't even know how to describe it. I'd say factory work.
Dog's name: Copper! He's an Australian shepherd.
What were you doing when scouted? Taking the dog on a walk and taking Penelope to see her mom.
Describe your style: I think my style is casual but classic.
Describe Penelope's style: She's eclectic. She's a year and a half and (personality-wise) she is really rambunctious and really rowdy.
Fashion trends you love: I don't know if it's a trend but I like a preppy style. Overall, I like style over fashion. I like muted palettes with splashes of color.
Fashion trends you hate: Uggs and sweatpants!
Fashion influences: I guess it comes from classic styles that have been around forever.

What would you like to see more or less of in Lawrence? More people dressing nicer and less people wearing pajamas on the street.
Tattoos or piercings: None. Haha!
Whom do people say you look like? I used to get Ewan McGregor but I don't get that a lot anymore. Penelope, why are you laughing? I don't look like him anymore!
What type of music do you unwind to? I like anything from old country to punk to jazz: I'm pretty much all over the place.
Tell us a secret: I will spend hours watching the most horrible television shows.
Copyright 2018 The Lawrence Journal-World. All rights reserved. This material may not be published, broadcast, rewritten or redistributed. We strive to uphold our values for every story published.