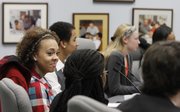 Education news
Have a story idea?
Contact Journal-World education reporter Elliot Hughes:
ehughes@ljworld.com
A panel of students from Lawrence and Free State High schools told about 50 of the district's top administrators and principals today that they often feel racially disconnected from the classes they're required to take, that some teachers are overly sensitive to certain racial issues, and that they're often made to feel different at school simply because of their race.
"I feel like I haven't learned particularly about my race," said Ariana Tubbs, a black student at Free State High School. I feel like I've just learned the surface, and everything else is left for the students and me to find ourselves — things that are positive about our race or our history."
Tubbs was among eight students — including students of white, black, Asian and mixed-race backgrounds — who spent more than an hour Wednesday morning in a frank discussion with the district's top administrators about how race influences their school experiences.
Several noted that standard American history classes focus almost exclusively on the actions of white European figures and that discussion of black history focuses only on slavery and the Civil Rights movement. To learn more about that aspect of American history, they said, students have to take a separate elective course.
"I feel it shows favoritism, or like superiority, because (the school says) that's what we think is important, or what you need to know," said David Balmilero, a sophomore of Asian-American descent at Lawrence High School.
Their discussion was part of an ongoing program that the Lawrence school district is using called "Courageous Conversations," which is intended to bring racial issues out in the open so that faculty, staff and students can have honest conversations about them.
The program is part of the Lawrence school board's stated goal of achieving educational equity throughout the district. According to state data, the student body in the district is about 70 percent white and 30 percent minority.
But district officials acknowledge the teaching staff is overwhelmingly white, and there are wide differences in achievement levels between white and nonwhite students and, in some case, between male and female students.
Several students talked about uncomfortable moments in middle and high school when they read books like "Huckleberry Finn" or "Of Mice and Men" — books written by white authors that have strong racial themes and that use racial language that's considered offensive by today's standards.
"Every time (the teacher) would read and the word would come up, she would look up," said Makayla Bell, a Lawrence High senior. "I just thought it was weird because there were probably three other black kids in the class. She would always look at us, like, 'Do either one of you want to say the word?' There was no need for that."
During the conversation, the students were asked how they felt about the fact that minority students in Lawrence have a much lower graduation rate than white students.
For the class of 2013, according to state data, the overall four-year graduation rate in Lawrence was 84 percent. For whites, it was about 86 percent, but only 69 percent for black male students and 67 percent for Hispanic males.
Surprisingly, though, many of the students said the district puts perhaps too much emphasis on graduation rates and not enough on teaching the skills students will need after they leave high school.
"While school teaches me a lot of great things, what I'm not being taught in school is how to do your taxes, or like checkbooks, how to keep that up," said Marilee Nuetel, a white senior at Free State. "I wish that someone would sit me down for a semesterlong and teach me the ins and outs of paying bills and everyday life that you're going to have to deal with, no matter what you do in high school."
Asked what the schools could do to improve the racial climate in Lawrence, Garrett Swisher, a white sophomore at Free State, urged officials to work on equal discipline for students of different races. "Whatever race you are determines the level of punishment you get," he said.
District administrators and school board members will continue discussing racial issues in Lawrence next week when they conduct a two-day workshop titled "Beyond Diversity" on Tuesday and Wednesday at the district administrative headquarters.
Copyright 2018 The Lawrence Journal-World. All rights reserved. This material may not be published, broadcast, rewritten or redistributed. We strive to uphold our values for every story published.