Box score
Manhattan CHIEF (31)
Jaycie Jackson 3-9 1-2 7, Kiel Ditto 3-7 3-5 9, Rachel Ryan 1-6 0-0 2, Annie Phillips 2-5 0-0 4, Miranda Brouk 2-5 2-6 6, Marissa Brouk 0-3 0-1 0, Laurel Stewart 1-5 1-2 3. Totals 12-40 7-16 31.
Veritas (58)
Tori Huslig 15-27 1-3 31, Ashley Boland 2-9 0-2 4, Macie Dressler 3-9 0-0 6, Alyssa Krestan 3-9 0-0 6, Hannah Gloss 3-11 2-2 9, Holly Scott 1-5 0-0 2, Caitlin Breuer 0-0 0-0 0, Rebecca Burmingham 0-0 0-0 0, Delaeny Shelton 0-0 0-0 0. Totals 27-67 3-7 58.
Manhattan 12 2 7 10 — 31
Veritas 19 19 10 10 — 58
Three-point goals: Manhattan 0-1; Veritas 1-10 (Gloss). Fouled out: None. Turnovers: Manhattan 25, Veritas 14.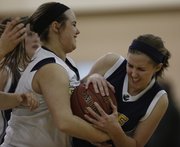 Eudora — Veritas Christian's girls basketball team doesn't utilize full-court pressure every game, but coach Kevin Shelton figured Tuesday night's home matchup against Manhattan CHIEF was as good a time as any to break it out and create an advantage.
With freshman guard Tori Huslig giving the visitors fits — she swiped 10 steals and turned most of them into easy buckets for herself or a teammate on her way to 31 points — the Eagles ripped off 19 steals to cruise past Manhattan, 58-31, at Eudora Community Center.
"It's nice having a player like Tori on our team, and we try to play through her a lot, especially on the press," Shelton said after Veritas improved to 8-6. "We look for her to score immediately. I thought all of our girls did well recognizing when Tori was open and getting the ball to her."
The game plan all along was to create havoc on defense, so when Manhattan closed the first quarter with a 6-0 run, no one from Veritas was pleased. That went double for Huslig, who actually missed five of her first six shots in the opening minutes before exploding for a huge night.
After finishing the first strong, with eight points, Huslig scored 15 of the Eagles' 19 points in the second quarter. Veritas feasted on 10 Manhattan CHIEF turnovers and held its opponent to 1-for-9 shooting and two points to take a 38-14 lead into halftime.
Huslig swiped five steals in the second quarter alone, when Eagles Alyssa Krestan and Hannah Gloss each snatched the ball away from their foes, as well.
Said Huslig, who also pulled down seven rebounds: "We just stepped up our game a little bit that second quarter."
It can be difficult to generate offense out of defense, but Shelton said the Eagles often spend time at practices working on trapping and swiping crossover dribbles when their opponent isn't taking proper care of the ball.
"That's something we pride ourselves in, and Tori does a really good job doing that," Shelton said.
So did the rest of the Veritas starting five: freshman Krestan (three steals), senior Ashley Boland (two steals), junior Macie Dressler (two steals) and senior Gloss (two steals).
Though Huslig takes a lot of pride in how hard she plays, she had no interest in taking credit for the victory.
"It's a good feeling," she said of a near triple-double. "I always have my teammates behind me, though."
Gloss, who scored nine points, provided one of the highlights of the night in the fourth quarter. Gloss saved a Huslig outlet pass from going out of bounds and found Krestan for an open jumper, which gave Veritas a 54-25 lead with less than five minutes to play.
Veritas plays host to Topeka Cair Paravel at 3:45 p.m. on Saturday.
Copyright 2018 The Lawrence Journal-World. All rights reserved. This material may not be published, broadcast, rewritten or redistributed. We strive to uphold our values for every story published.