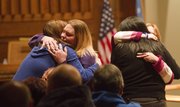 Topeka — Absent answers there were prayers and silence.
Friends and family of Sarah Brooke Gonzales McLinn — a 19-year-old Lawrence woman last seen on Jan. 14 —gathered at St. David's Episcopal Church in Topeka Wednesday night for a two-hour service.
Among those who came forward was Ashley McLinn, 22, of Topeka, Sarah's oldest sister. Reading a prayer written by a stepsister, Ashley McLinn said her family needed hope for her sister's safe return.
"The agony of not knowing where Sarah is is a daily torture," Ashley McLinn read.
Lawrence police say the last time anyone reported seeing or hearing from Sarah McLinn was on Jan. 14. That night, Ashley McLinn said, she spoke with her sister and made plans to spend time in their hometown of Topeka the next evening. According to police, Tuesday was also the last night Harold Sasko, 52, owner of three CiCi's Pizza restaurants, was found. He and Sarah McLinn both lived in a home in the 2900 block of West 26th Street.
Police found Sasko dead of apparent traumatic injuries on Jan. 18 when they arrived at the home after McLinn's family called to report her missing. Also gone from the home was a dark gray or blue 2008 Nissan Altima with a Kansas "In God We Trust" license plate number AK149.
On Wednesday at St. David's Episcopal Church in Topeka, long stretches of silence were punctuated by readings of scripture and hugs shared by those gathering in the dimly lit sanctuary.
Don Davidson, the church's rector, said some of Sarah McLinn's family had been members at the church for several years. He described Sarah McLinn as strong, opinionated and smart and said she had graduated early from nearby Topeka High.
"She was a determined person," Davidson said.
Upon the service's conclusion, Ashley McLinn spoke to reporters gathered in the church's lobby. In the days since her sister's disappearance, she has shared her cellphone number in hopes her sister sees it and will call.
"She's the closest person to me and I love her and I just want her home," Ashley McLinn said. "When anything's wrong I always call her, and I can't call her."
No new information about Sarah McLinn's whereabouts or the circumstances surrounding Sasko's death had surfaced as of Wednesday evening. Ashley previously told the Journal-World that she wanted her sister to call her at 785-806-8819. She described her sister as 5-foot-7 with brown eyes and brown hair that she dyes black.
Lawrence police are also asking anyone with information about Sasko's death or the whereabouts of McLinn and/or the missing 2008 Nissan Altima to call the department at 832-7509 or Douglas County CrimeStoppers at 843-TIPS(8477).
On Wednesday, with little else to lean on, McLinn's family still held out hope that Sarah would find her way back home.
"It helps to be around family and friends and to know people are caring and they're praying for Sarah's safe return too," Ashley McLinn said. "We just all want her home safe and sound."
Copyright 2018 The Lawrence Journal-World. All rights reserved. This material may not be published, broadcast, rewritten or redistributed. We strive to uphold our values for every story published.