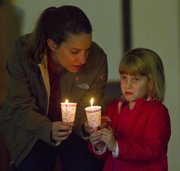 More than 60 people walked into the rotunda of Strong Hall on the Kansas University campus Monday afternoon to begin a series of events commemorating Martin Luther King, Jr. Day, some of several held over the three-day weekend.
Kenton Rambsy, a KU doctoral candidate in literature and a coordinator for The Project on the History of Black Writing, gave a six-minute speech in between a cappella performances from Genuine Imitation.
Rambsy spoke about King's goal of achieving not just freedom, but also economic equality and upward mobility. He asked when society would demand that institutions rectify inequalities that exist today, as King did decades ago.
"When will we demand our government to be more responsible for those who need food, clothing despite their earnest efforts to find jobs?" Rambsy said. "When will we hold institutions more responsible for the women who are sufficiently qualified for their jobs but receive less pay in comparison to their male counterparts?"
Following the speech, audience members and performers held a candlelight vigil, walking from Strong Hall to the Kansas Union for more functions honoring King. Strong winds challenged the candle flames.
Along the walk, Alex Matlock, 20, of Lawrence, called the ceremony in Strong Hall "fantastic" and described what the holiday meant for him.
"Attending a university in Kansas, where slavery and civil rights played such a huge impact in the border war between Missouri and Kansas, I think that without the things that Martin Luther (King) did and stood for and all his efforts, me being here wouldn't be possible," Matlock said.
Copyright 2018 The Lawrence Journal-World. All rights reserved. This material may not be published, broadcast, rewritten or redistributed. We strive to uphold our values for every story published.