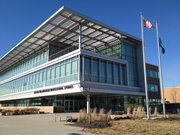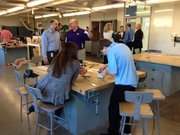 A remote-control plane whirred around a three-story atrium while students in surrounding workrooms pitched business plans or manipulated high-tech machinery Wednesday at the Blue Valley school district's Center for Advanced Professional Studies in Overland Park.
Lawrence Chamber of Commerce representatives saw a typical afternoon at the state-of-the-art career-training center during a tour to glean inspiration for their own program and facility in Lawrence.
"Our driving force is economic development," said Donna Deeds, executive director of the Blue Valley program. She said curriculum there is driven by industry and what's happening in the Kansas City area and beyond.
The chamber and the Lawrence School District are planning a joint College and Career Center at 2920 Haskell Ave., with the school district constructing a new building for high schoolers and the chamber renovating an existing building for adult training.
The school district's portion of the campus, funded with $5.7 million of the $92.5 million in bonds voters approved in April, is well under way. Architects — Momenta of Overland Park, which was the local architectural firm for the Blue Valley facility — are expected to present preliminary designs to the bond committee next week, said Patrick Kelly, director of career and technical education for the Lawrence school district.
But plans for the chamber's portion of the venture are still in the formative stage.
One key priority — which Blue Valley has employed in full force — is partnerships, said Hugh Carter, the chamber's vice president of external affairs.
Blue Valley's facility offers training in four areas: biosciences, human services, engineering and business, technology and media. Kansas City firms such as Black and Veatch and 360 Architecture are listed as "curriculum partners" outside the computer-aided design lab, with McDonalds Europe and Garmin UK outside the global business room, for example. Many corporate employees act as mentors, and students from different programs often cross-collaborate on projects like they would in the real working world.
Lawrence currently lacks a technical education center. Business leaders said such a center would benefit students and help the city attract economic development, because businesses want to locate in a place with a good workforce.
Carter said he's eager to find out what Lawrence employers are looking for and offer the relevant training at the College and Career Center. He said the chamber also envisioned partnering with other Kansas vocational technical schools to bring in instructors.
Ideally — like the Blue Valley facility, which has flexible spaces and lots of moveable furniture — Lawrence's center will be able to change with industry needs, Carter said.
Copyright 2018 The Lawrence Journal-World. All rights reserved. This material may not be published, broadcast, rewritten or redistributed. We strive to uphold our values for every story published.