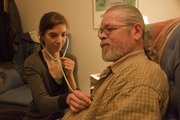 After being hospitalized for postpartum panic attacks, Jackie Lira wasn't sure who to turn to next. The Lawrence stay-at-home mom didn't have health insurance, or a doctor. With no previous history of mental illness, she wasn't seeing a therapist or psychiatrist.
Lira was referred to Heartland Community Health Center. There, she met with a nurse practitioner who prescribed her medications, and a behavioral health consultant for therapy. Now, three months later, Lira is feeling like herself again. "We've done so good that I'm actually getting off all my meds for postpartum," said Lira, 40, a mother of three.
Her care was made possible through a partnership between Heartland and Bert Nash Community Mental Health Center. The behavioral health consultant, Karin Denes-Collar, is actually a Bert Nash employee, but works at Heartland to help its patients with mental health issues.
Advocates of this integrated care model say it provides more coordinated, streamlined treatment to patients and ultimately saves money by catching problems before they fester. Administering mental and physical health care needs in one place makes patients more likely to follow through on care, and reduces stigmas associated with being treated for mental illness, they say.
"Studies have shown that more than half of all visits for primary care involve a behavioral health problem. People with serious and persistent mental illnesses have a life expectancy that's 25 years less than the rest of us," said Bert Nash CEO David Johnson. "So how we make sure people are getting the mental health and primary care they need wherever they are?"
In 2011, a Sunflower Foundation grant began funding Denes-Collar's position at Heartland, where she meets with clients to find out if their illnesses have an underlying behavioral component. Much of the time they do. Patients might, say, not be sleeping enough or eating right.
"What are the things we commonly talk about that we need people to do in this country to be healthier? Exercise more, eat the right diets, those kinds of things. Those are behavioral changes," said Heartland medical director Dan Purdom. "There's not a pill I can give that's going to make that happen."
So Denes-Collar works with patients to alter those behaviors. Since she does it right at Heartland, during or after appointments, patients almost never turn down the opportunity to meet with her. "We have tried to a do this a different way, where we brought you a bunch of business cards and brochures and say, 'Go over to Bert Nash,'" she said. "The problem is, by and large, people don't."
The two clinics expanded their partnership in the fall, when a nurse practitioner from Heartland began seeing patients at Bert Nash once a week and a Bert Nash psychiatrist, in turn, did the same at Heartland.
Supporters say this model isn't just effective for these two clinics' patient populations, which are largely low income, but all of health care. For that to happen, though, insurance reimbursement would have to start paying for this type of model, since the main funding source now is grants.
These advocates also hope health care can get to a point where there isn't a differentiation between the mental and the physical. To that end, Bert Nash last year purchased the old VFW property at 138 Alabama St., in the hopes it can eventually become a standalone integrated care clinic.
"I believe it is the future of health care and mental health care — that those services are provided where the patients are, as opposed to, 'You go here for one thing and there for another,'" said Johnson, the Bert Nash CEO. "If they don't know what the masthead on the front of the building says ... then we'll have gotten there."
While Lira had never heard of integrated care before her treatment last year for panic attacks, she's glad it's being used in Lawrence. Her postpartum symptoms are under control, and she now has a primary care doctor to go to for her other health care needs. She credits her speedy recovery to the clinics' partnership.
"I don't think I would have had success as fast, in a three-month time span, because it would have been so demanding otherwise," she said. "There would have been so many appointments, and getting babysitters is really hard. Just being able to go to one office building for two different appointments makes it so much easier to manage."
Copyright 2018 The Lawrence Journal-World. All rights reserved. This material may not be published, broadcast, rewritten or redistributed. We strive to uphold our values for every story published.