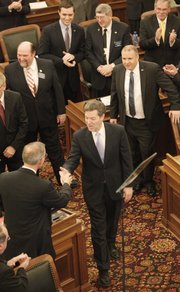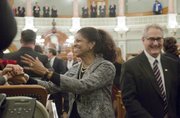 I was standing in the balcony of the House of Representatives, just above the Speaker's chair where Gov. Brownback would give his State of the State address, when a nearby photographer mentioned the importance of luck in getting good photographs.
Several of us had chosen the lofty location because it would provide an unobstructed view of the governor as he entered the chambers and walked down the aisle shaking hands with legislators. Luck can play a role in many of the images photographers create, but common sense and a little planning will improve your odds.
The Roman philosopher Seneca said, "Luck is what happens when preparation meets opportunity." Kansas University basketball great Danny Manning used the same quote after KU's well-executed 83-79 win over the University of Oklahoma in the NCAA championship game in 1988. While I know for a fact that none of us with cameras in the House balcony were all-star power forwards or philosophers; we were all there because we recognized the importance of preparation.
Three hours before the governor's speech, I had walked the empty House chamber floor, searching out the desks and seat locations of Lawrence's legislators. I found Rep. Paul Davis' desk on the center aisle, below the Speaker's podium. The odds were pretty good that the governor would pass by Davis and they would shake hands. Davis is running against Brownback as a Democratic candidate for Kansas governor in 2014. That hand-shaking moment would be my lucky shot — my planned photographic opportunity.
I moved around the balcony to determine the best position and lens angle for my shot. Although my angle would probably not capture Davis' face, I was pretty sure the governor's face would be revealed in the frame. To save my spot, I placed my camera bag on the space and then left the room while security police and bomb-sniffing dogs swept the chambers.
The governor's walk down the aisle was pretty routine, and when he approached Davis' position I was in a good line of sight to capture four photographs of the encounter. Predictability might be boring but it's ... well, it's predictable. The resulting photograph, while not overly creative or extraordinary, is of a significant moment and of interest to many readers. With that photo in hand, I was then free to try other locations for additional photographs. And maybe even get lucky.
Copyright 2018 The Lawrence Journal-World. All rights reserved. This material may not be published, broadcast, rewritten or redistributed. We strive to uphold our values for every story published.