Stillwell — Both Lawrence and Free State high schools brought home honors from the Kansas 6A state debate tournament this weekend.
Lawrence High finished third in the four-speaker division, while Free State's Alex Houston and Hannah Moran advanced to the final 16 in the two-speaker division before losing in the octafinal round to Blue Valley North.
"They were really good," Houston said after the decision was announced. "We did our best, but they were really good debaters."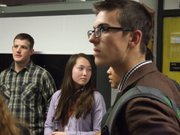 He and Moran came out of the preliminary rounds with a 4-2 record, giving them a mid-level seed going into the elimination rounds. But there, they were matched against Blue Valley North's Mady Womack and Linda Yang, who won the round on a 3-0 decision.
Winning a coin toss before the round, Moran and Houston opted to take the negative side in the octafinals, "which probably, in retrospect, was a poor choice," Moran said afterwards.
This year's resolution called for increasing the United States' economic engagement with one of three Latin American countries: Cuba, Mexico or Venezuela.
Blue Valley North's case called for ending the decades-old U.S. embargo against Cuba, a case that Houston and Moran had seen in various forms many times during the season.
But their case was loaded with a larger than usual number of specific "impacts," or advantages to the plan, each one of which the negative team needed to rebut while also trying to persuade the judges that adopting the plan would result in serious disadvantages.
The judges sided unanimously with Blue Valley North, although some of them said it had been a very close round.
That round marked the end of both Houston's and Moran's high school debating careers. Moran, who will continue with forensics in the spring semester, said advancing to octafinals at the state championships in her final tournament made it a bitter-sweet end.
"I'm pretty happy, especially since this is my last debate tournament ever," she said. "It's kind of sad. I'll be doing forensics, but debate is where most of my focus usually lies."
Lawrence High's four-speaker team of Hayley Luna, Ellie Dunlap, Mark Stevens, and Stefan Petrovic combined for an 8-6 record, tying Manhattan High School on win-loss records. But Manhattan earned more overall ballots — there were three judges in each round — to take second place behind the tournament host school Blue Valley, which finished 12-2.
Stevens and Petrovic, who took the negative side each round, finished with a 5-2 record, while the affirmative team of Luna and Dunlap finished 3-4.
Novices Bridget Smith and Sungho Hwang, who last weekend placed second at the state novice tournament, were on hand as alternates but ended up not debating in the varsity tournament.
"They're a couple of first-year debaters who are good," LHS coach Jeff Plinsky said. "We brought them for the experience. We thought if things went poorly we might give them some experience. But when we got down toward the end, things were tight enough that we kept our upperclassmen in the competition."
Bishop Seabury Academy also sent debaters to the state 3A debate tournament in Fort Scott. Results from that event were not immediately available Saturday evening.
Education news
Have a story idea?
Contact Journal-World education reporter Elliot Hughes:
ehughes@ljworld.com
Copyright 2018 The Lawrence Journal-World. All rights reserved. This material may not be published, broadcast, rewritten or redistributed. We strive to uphold our values for every story published.