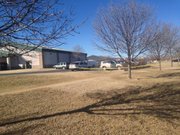 Lawrence police and fire-medical crews responded to calls of a shooting in the parking lot at Lawrence Gymnastics and Athletics at 4930 Legends Drive at about 1:30 p.m. on Friday.
Police discovered a man who appeared to be suffering from a gunshot wound inside a parked car, according to Sgt. Trent McKinley, a Lawrence Police Department spokesman. McKinley said bystanders performed life-saving measures before medics arrived. Shortly thereafter, medics transported the man to a Topeka trauma center. McKinley said no one else was harmed and that the man is not associated with the gymnastics academy.
Copyright 2018 The Lawrence Journal-World. All rights reserved. This material may not be published, broadcast, rewritten or redistributed. We strive to uphold our values for every story published.