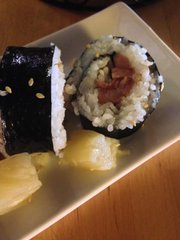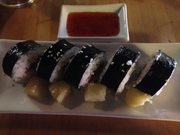 "Spam gets a bad rep," said co-owner of Ramen Bowls Shantel Grace.
I'd say so. When I ordered the spam musubi appetizer, I spent the waiting time cringing at the thought of gelatinous "mystery meat" that I remember sliding out of a can in my parents' kitchen as a kid.
In Hawaii, it's a different story. Considering its wild popularity on the island, nicknamed "Hawaii's Steak," the salty luncheon meat has found its way onto the Japanese, Hawaiian-Pacific Ramen Bowls menu.
Arriving like a sushi roll, five pieces sitting carefully on a long tray garnished with pineapple, the Spam wrapped in cooked white rice and nori (seaweed) looked sophisticated. The sweet chili dipping sauce adds a tangy flavor to this comfort food. I completely forgot my previous reticence.
Where to get it: Ramen Bowls, 125 E. 10th St., or call 84-BOWLS for delivery
What you'll pay: $5 plus tax
Try it with: Malasadas, a traditional Portuguese dessert made island-style with deep-fried balls of dough (essentially doughnut holes) and covered in Maui-style sugar. Served with a chocolate dipping sauce.
Also on the menu: At least nine different types of ramen, customizable with several add-ons and chef requests, and a number of delectable rice dishes, including Island Fried Rice, also made with spam. Head to Ramen Bowls during happy hour, between 2 p.m. and 5 p.m., and receive free gyoza appetizers and discounted Japanese beer, sake and specialty drinks.
Copyright 2018 The Lawrence Journal-World. All rights reserved. This material may not be published, broadcast, rewritten or redistributed. We strive to uphold our values for every story published.