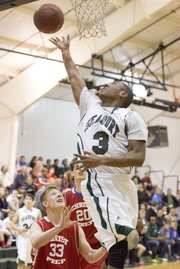 Seabury boys 61, Christ Prep 47
The Seabury Academy boys basketball team improved to 3-0 after coasting past Christ Prep on Tuesday.
Freshman Mikey Wycoff netted 24 points for the Seahawks and Jomain Rouser chipped in 15 to join him in doubles figures.
Seabury head coach Ashley Battles said despite his team leading by 20 for most of the game, he did not feel comfortable and saw a number of areas for improvement.
"We played great defense when we weren't fouling, but that might have something to do with only playing three games so far," Battles said.
The Seahawks take the court again on Thursday at Midland Adventist.
Seabury 18 9 17 17 — 61
Christ Prep 3 14 12 18 — 47
Seabury scoring: Wycoff 24, J. Rouser 15, Allen 9, Copeland 5, A. Rouser 4, Uhler 4.
---
Christ Prep girls 37, Seabury 36
Seabury Academy girls basketball coach Keith Smith was confident that his team was going to come away with a victory with the Seahawks up by five points with 1:30 to go, but Christ Prep came back and won.
"We came from a first-quarter deficit and led until the last seven seconds of the game," Smith said. "We had two starters foul out with 1:30 to play."
Mariah Smith led the Seahawks (2-2) with 11 points.
Seabury plays Thursday against Midland Adventist.
Christ Prep 11 6 3 17 — 37
Seabury 5 14 3 14 — 36
Seabury scoring: Smith 11, Malone 7, Zaremba 5, Boos 4, Almanza 4, Kaur 3, Taylor 2.
Copyright 2018 The Lawrence Journal-World. All rights reserved. This material may not be published, broadcast, rewritten or redistributed. We strive to uphold our values for every story published.