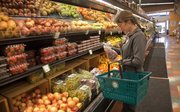 Hilary Brown goes the extra mile in making sure there are no genetically modified organisms in her Hilary's Eat Well veggie burgers, even if that involves spending more money or using less readily available ingredients.
"We want to make products that make people feel good after they eat," said the Lawrence business owner. "GMO foods were introduced to the American public without anyone's knowledge of it and without a tremendous amount of research being done."
All the products sold at Hilary's Eat Well are free of GMOs, part of a growing movement in Lawrence and elsewhere to rid the food supply of genetically altered ingredients, which can be found in most of the processed food sold in America. An estimated 90 percent of the commodity crops (corn, soybeans, etc.) in the U.S. are genetically modified to withstand certain pests and diseases.
How to be GMO-free in Lawrence
To buy foods without GMOs, look for a label from either the Non-GMO Project or from the U.S. Department of Agriculture certifying the product as organic.
All the produce at Natural Grocers, 1301 W. 23rd St., is organic and thus free of GMOs, as are many of the fruits and vegetables sold at the Merc Co-op, 901 Iowa St. Checkers, 2300 Louisiana St., as well as Hy-Vee and Dillons (both have multiple Lawrence locations), also have organic options available.
Lawrence-based Hilary's Eat Well sells GMO-free veggie burgers. Pines International of Lawrence sells wheat grass, beet juice, barley grass and alfala without GMOs.
Certified organic farms, of which there are several in the Lawrence area, also don't use GMOs.
The U.S. Food and Drug Administration has ruled that GMOs are safe for humans to eat. But that hasn't stopped skeptics from foregoing genetically altered products.
"It just stands to reason that you don't want to be eating poison in your food," noted Ron Seibold, president of Pines International, a Lawrence-based producer of non-GMO wheat grass, beet juice and alfalfa.
Seibold said crops genetically modified to withstand pesticide are, in turn, being sprayed with increasing amounts of chemicals. That's why he says it's best to eat organic food, even if is often more expensive.
"How do you measure expense when you're talking about cancer or Parkinson's disease?" he said, adding that the effects of GMOs may not be realized for decades to come. "I guess we'll have to wait and see what we human guinea pigs look like in another 20 years."
Marty Glenn, a nutrition lecturer at Kansas University, says that from a nutrition standpoint there isn't any known difference between eating natural and GMO foods.
"I don't think there's been any good, solid evidence that it's harmful necessarily, but that doesn't mean it might not cause issues," such as food allergies, he said. "But I think at this point it's all just speculation. There's really not been the hard evidence out there to say these things are a real issue."
But Julie D'Auteil, a Lawrence health and wellness coach, says the body's digestive system trying to process GMOs is like two people trying to have a conversation in different languages.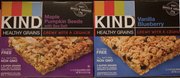 "That's exactly what the cells do with the GMOs: They don't communicate," she said. "At the cellular level, our bodies don't know what to do with them. That's when things go haywire."
While the science, at least in America, has yet to come up with a definitive answer on the health risks of GMOs, many people aren't waiting around for an answer.
"We've adapted to a lot of things, our bodies have," D'Auteil added. "But adapting to GMOs is one I don't see happening. I see us growing a tail first."
Copyright 2018 The Lawrence Journal-World. All rights reserved. This material may not be published, broadcast, rewritten or redistributed. We strive to uphold our values for every story published.