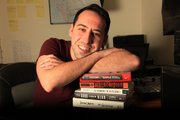 About this story
Micki Chestnut is communications director for the United Way of Douglas County, which provides occasional features spotlighting local volunteers and charities supported by the United Way.
Want to volunteer?
—Help deliver donation bags to homes. Volunteers will meet on at 11 a.m. Jan. 18 at the west parking lot of Centennial Park, 600 Rockledge, to receive canvassing supplies and instructions. After the orientation, volunteers will fan out to deliver book donation bags to individual residences.
—Help collect book donations from homes. Volunteers will meet at 11 a.m. Jan 25 at the west parking lot of Centennial Park, 600 Rockledge, to receive instructions on picking up book donations from residences and delivering them to the United Way.
Volunteers are encouraged to register at www.volunteer
douglascounty.org.
Want to donate books?
—Drop off books. Books appropriate for kindergarten through 5th grade students can be dropped off at United Way of Douglas County, 2518 Ridge Ct., and at any Peoples Bank location (4831 W. 6th St., 3045 Iowa St., 745 New Hampshire St.)
—Request a pick up on Jan. 25. If you are unable to drop off your book donation and do not receive a donation bag at your residence, contact the United Way Roger Hill Volunteer Center, 785-865-5030 or volunteer@rhvc.org, by Jan. 22 to arrange a pickup on Jan. 25.
Every Friday, the 40 students in Kennedy Elementary School's Nutrition Club go home with backpacks filled with Harvesters BackSnacks, which contain food for these children from low-income homes to eat over the weekend.
Community volunteer and education advocate Nathan Hutchcraft wants to make sure the backpacks are stocked with fuel for the students' brains, too. So he is organizing a communitywide children's book drive to benefit the United Way of Douglas County's BackSnack Brain Food program.
Through the Brain Food program, students in the Kennedy Elementary Nutrition Club get to pick out a free book every week when they come to get their weekly BackSnack. For many of the students, this is a rare opportunity to have a book of their own, said Stacie Jackson, Communities in Schools site coordinator for Kennedy, who administers the BackSnack program.
When Jackson began distributing the Brain Food books in October, she was thrilled by how excited the kids were to receive the books. "I get to keep this?" she remembers the students asking her, making sure they had heard her correctly. "Yes, this is your book; you get to keep it and read it as many times as you want," she assured them.
"It's an amazing gift to be able to give the students, to see them take the books home and be so excited to have something of their own to read and keep," Jackson said. The most popular picks are the chapter books for students in 3rd through 5th grades.
Hutchcraft wants to stock the shelves at Kennedy with enough Brain Food books to keep the kids in the Nutrition Club reading for months.
The Brain Food book drive, which coincides with Martin Luther King Jr. Day, a national day of service, will kick off on Jan. 18. Hutchcraft and other volunteers will canvass Lawrence neighborhoods and place 2,000 grocery bags, donated by Dillon's on 19th and Massachusetts streets, on people's porches with the hopes they will fill the bags with books for children in kindergarten through 5th grades. The following Saturday, Jan. 25, volunteers will return to pick up the book-filled bags.
Hutchcraft organized a similar drive to benefit Children's Mercy Hospital eight years ago as part of his Eagle Scout project for the Boy Scouts. He collected enough books to fill his dad's pickup truck twice. This time, he wants to collect even more books.
"There are a lot of people who have books sitting around that they are not using. Meanwhile there are people who can use them," Hutchcraft said. "These kids, whose families have trouble providing food for them over the weekend, these are the kids who will most benefit from that extra educational boost."
"Studies show that when children have access to books in their home, their educational achievement is higher, so the Brain Food book drive ties in perfectly with the United Way's goal of education, ensuring students have the support and resources they need to succeed in school," said Lori Johns, director of volunteer engagement for the United Way of Douglas County.
Copyright 2018 The Lawrence Journal-World. All rights reserved. This material may not be published, broadcast, rewritten or redistributed. We strive to uphold our values for every story published.