Photo Gallery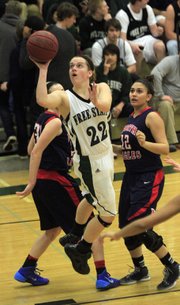 Free State girls vs. Olathe North
Free State girls 60, Olathe North 34
Free State (60)
Lauren Johnson 0-1 3-4 3, Adriana Jadlow 6-7 1-4 13, Hannah Walter 0-1 0-0 0, Madison Piper 4-14 1-2 11, Scout Wiebe 4-7 2-3 10, Millie Shade 3-10 4-4 12, Maren Kahler 0-3 2-2 2, Hannah Shoemaker 2-2 2-2 6, Naomi Hickman 1-1 0-0 2, Morgan Gantz 0-0 1-2 1, Lexci Kimball 0-1 0-0 0. Totals 20-47 16-23 60.
Olathe North (34)
Lexa Stelting 1-5 0-2 2, Amelia Ludlow 1-1 0-0 2, Kayla Bartel 1-4 2-3 4, Sabrina Prendes 1-4 2-3 4, Danielle Wolfe 3-11 0-0 6, Syrra Lindsey 1-8 1-2 3, Kelsey Gooden 0–3 8-8 8, Tenesha Sharp 1-3 0-0 2, Sofia Prendes 0-2 2-2 2, Alexia Bascue 0-1 1-2 1, Brooklyn Anderson 0-1 0-0 0. Totals 9-43 16-24 34.
Olathe North 5 14 4 11 — 34
Free State 15 8 15 26 — 60
Three-point goals: Olathe North 0–15; Free State 4-18 (Piper 2, Shade 2). Fouled out: Sa. Prendes. Turnovers: Olathe North 17, Free State 14.
Free State High girls basketball coach Bryan Duncan said he didn't have any magic words for his team at halftime on Friday.
With a four-point lead over Olathe North, the Firebirds knew what they needed to accomplish in the second half if they wanted to walk away with a victory.
Whatever the spark was, it worked for the Firebirds, who dominated in the second half on their way to a 60-34 victory at FSHS.
"We just came out better and faster than in the first half," said senior Millie Shade, who was one of the four Firebirds in double digits with 12 points. "We knew we had to pick it up. It was a four-point game at halftime. We played together."
The Firebirds (3-5) scored the first 11 points of the second half, with four players — Adriana Jadlow, Madison Piper, Scout Wiebe and Hannah Shoemaker — all contributing to the score.
Afterward, Free State held the Eagles to two points for the remainder of the quarter, more than four minutes. It was a change from Free State's last game, when the Firebirds were on the wrong side of a run to begin the second half.
"I think it motivated us a lot," said Jadlow, who scored a team-high 13 points and grabbed nine rebounds. "Coaches were starting to get on us more, and I think we were just overall putting in more effort."
Another change from previous games was the Firebirds' offense. It usually revolves around Piper and Wiebe, but as they didn't score with their usual ease on offense, their teammates picked up the slack.
Shade scored the first five points of the game, while Jadlow added eight points in the second half. Shoemaker also scored six points and grabbed five rebounds.
"We do turn to (Piper and Wiebe) most of the time," Shade said. "But sometimes, when it's a good night, we just all come together and play together."
Duncan added: "That was the best part about it offensively. I think we had four players in double digits, and, truthfully, we had our two primary scorers who didn't really shoot the ball particularly well. I think that's what we needed to prove: We're not a two-horse show offensively."
In the fourth quarter with a 38-23 lead, the Firebirds went on a 9-2 run over the first three minutes to stop any chance of a comeback for O-North (1-5). Wiebe hit a jumper before Piper drilled a three-pointer on the next possession. Two possessions later, after forcing their third turnover of the quarter, Jadlow was able to score on a putback to extend the team's lead to 45-25.
Free State will face Leavenworth on Tuesday at Free State.
Copyright 2018 The Lawrence Journal-World. All rights reserved. This material may not be published, broadcast, rewritten or redistributed. We strive to uphold our values for every story published.