Photo Gallery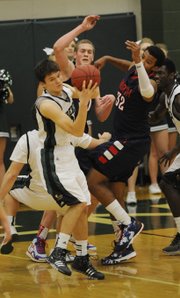 Free State boys vs. Olathe North
Olathe North boys 76, Free State 66
Free State (66)
Tristan Garber 1-4 1-1 3, Blake Winslow 3-8 7–11 13, Cole Moreano 6-10 0-1 16, Keith Loneker 2-2 2-2 6, Keegan McKinney 1-2 0-0 3, Weston Hack 2-5 1-2 5, Reshawn Caro 0-1 1-2 1, Justin Narcomey 1-3 0-0 3, Khadre Lane 6-16 2-6 16. Totals 22-51 14–25 66.
Olathe North (76)
Kenny Byers 1-2 1-1 4, Mackay Williams 0-1 0-0 0, Julian Winton 5-11 6-10 18, Josh Burk 4-8 0-2 12, Alonzo Williams 1-2 3-4 5, Tajh Brown 1-4 0-0 2, Josh Moore 6-8 1-2 13, RJ Smith 5-8 0-0 10, Mason Hughes 6-7 0-0 12. Totals 29-50 11-19 76.
Olathe North 17 14 22 23 — 76
Free State 14 21 8 23 — 66
Three-point goals: Olathe North 7-14 (Burk 4, Winton 2, Byers); Free State 8-19 (Moreano 4, Lane 2, McKinney, Narcomey). Fouled out: Williams. Turnovers: Olathe North 13, Free State 10.
There were times Friday night when the Free State High boys basketball team played its best basketball of the season. There were also times when the Firebirds struggled.
In a matchup against the tall and athletic players from Olathe North, Free State was able to match its opponent's intensity for most of the game.
However, FSHS couldn't answer a 17-4 run by the Eagles to open the second half and spent the rest of the game trying to catch up before ultimately losing, 76-66.
"The third quarter really killed us," said senior Weston Hack, who scored five points and added two rebounds. "We played three good quarters, but in the third quarter, they took all the momentum, went on some runs, and we weren't able to stop them."
After O-North (6-1) hit a three-pointer on its first possession of the second half, senior Cole Moreano responded with a three-pointer with 7:10 remaining in the third quarter to give the Firebirds a 38-34 lead. Free State then missed its next four shots and three out of its next four free throws while the Eagles went on a 14-1 run over the next 41⁄2 minutes.
"They are very athletic.They shoot it well," FSHS coach Chuck Law said. "You can't give them any more than they're already going to take with their abilities and their athleticism. We just gave them too much."
The Firebirds (4-4) were able to cut their deficit to 55-52 with 5:58 left in the game after a three-pointer by Moreano. However, Free State once again went cold from the field, missing its next three shots and missing the front end of two one-and-ones at the free-throw line.
Once Free State made its next basket, a layup by Moreano, it was trailing 62-54 with 3:56 remaining. The Firebirds were able to close the gap to seven points with 2:31 left, but that was as close as they would get for the rest of the game.
"(Olathe North is) a really talented basketball team," Law said. "Everybody in our league knew that this was probably going to be the year that Olathe North was going to arrive as a team to truly be reckoned with. They showed that."
Free State led 35-31 at halftime after Khadre Lane exploded for 10 points in the second quarter.
Lane was able to energize the crowd with a thunderous dunk that drew a foul and cut Free State's deficit to 25-22 with 4:48 left in the quarter. After Keith Loneker stole the ball on O-North's next possession, he passed the ball up the wing to Lane, who drove home another dunk. Later in the quarter, Lane hit a jump shot on the wing and was able to knock down a three.
"I've been having kind of a frustrating year, so I was just kind of letting all of my frustrations out," Lane said. "I wish I would have kept going the whole game, but it's something to build on for the rest of the year."
Hack added: "He gets like that sometimes. He's a great player. Obviously, his athleticism showed."
Before Lane's three served as the final points of the quarter, senior Tristan Garber went coast-to-coast for a layup while drawing a foul. His made free throw put the Firebirds up 32-31, as the team's defense held O-North scoreless for the final 3:43 of the quarter.
"We played our best basketball we've played all year," said Law about the second quarter. "We just have not been able to sustain that."
Ultimately, it was the flat stretch in the third quarter that kept the Firebirds from matching the Eagles throughout the game, dropping Free State to an 0-2 record in the Sunflower League.
"We just came out with less energy, and they always play with energy," Lane said. "That was our main focus the whole game. We just came out lackadaisical in the beginning of the third quarter, and our body language got bad. When our body language gets bad, then we play bad."
Free State will face Leavenworth on Tuesday at FSHS.
Copyright 2018 The Lawrence Journal-World. All rights reserved. This material may not be published, broadcast, rewritten or redistributed. We strive to uphold our values for every story published.