Contact KU and higher ed reporter Sara Shepherd
Have a tip or story idea?
---
More stories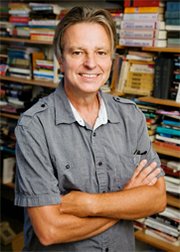 Kansas University named a distinguished professor of history at the University of Illinois as its very first "Foundation Professor," the university announced.
David Roediger is the Kendrick C. Babcock Professor of History at the University of Illinois and has written extensively about race, ethnicity and labor in the 19th and 20th centuries.
Roediger will begin at KU during the 2014-15 academic year with a joint appointment in history and American studies.
He will be the first faculty member hired through the university's Foundation Professor Initiative, which is meant to bring scholars recognized as leaders in their field to the university. KU hopes to hire 12 foundational faculty altogether.
In September Roediger spoke at KU as part the KU Department of American Studies' 60th anniversary celebration.
Copyright 2018 The Lawrence Journal-World. All rights reserved. This material may not be published, broadcast, rewritten or redistributed. We strive to uphold our values for every story published.