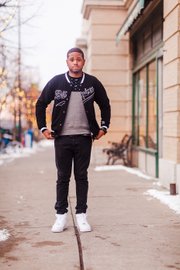 Age: 20
Hometown: Baltimore
Occupation: Double major in marketing and public relations with a minor in vocal performance.
Dream job: Entertainment lawyer
What were you doing when scouted? Heading to Starbucks
Describe your style: It's a little bit of preppiness, urban styles, flashes of color here and there and a mix of East and West coast — it's all over the place.
Fashion trends you love: I love skinny jeans and different types of graphic designs like paisley to polka dots.
Fashion trends you hate: Nothing comes to mind.
Fashion influences: I would say social media and just playing around with what I have in my closet.
What would you like to see more of in Lawrence? I'd love to see more people dress up occasionally. When I wear a basic outfit like this, some people say "you're so dressed up," but this (outfit) is just for going out, so it'd be good to see more people being creative.
Less of? Ugg boots.
Whom do people say you look like? This gets old but it's Tristan Wilds and Chris Brown.
What type of music do you unwind to? I love alternative R&B; and all types of stuff like classical music because I sing it on a daily basis.
Tell us a secret: I don't know how to ride a bike whatsoever!
Copyright 2018 The Lawrence Journal-World. All rights reserved. This material may not be published, broadcast, rewritten or redistributed. We strive to uphold our values for every story published.