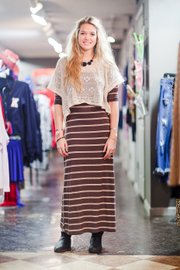 Age: 21
Hometown: Lawrence
What were you doing when scouted? Working at Fortuity.
Occupation: I'm a student but I also work here (at Fortuity). I'm also a rep at Rent the Runway.
Dream job: I'd love to work for a fashion company as a buyer or stylist.
Describe your style: My style is very eclectic; it doesn't always make sense but it always works.
Fashion trends you love: I love crop tops and new/retro-looking sneakers. I love boots. I really like everything!
Fashion trends you hate: There are a lot of things that I don't like but I don't like sandals. Even in the summer time, you'd see me in my boots or sneakers.
Fashion influences: I love Fortuity. There are so many great fashion items in here. I also look at a lot of look-books online and fashion websites that I really like too.
What would you like to see more of in Lawrence? More people trying new things.
Less of? Sweatpants and, sometimes, leggings.
Tattoos or piercings: I have an industrial bar (in the ear).
Whom do people say you look like? I've gotten several people: French actress Melanie Thierry to Miley Cyrus when she had long hair.
What type of music do you like? I like anything. I like alternative and a lot of rock. I'm getting into rap like Kanye. I'm open to anything. Country is my least favorite but I still appreciate it.
Tell us a secret: I'm the biggest scaredy cat — I still sleep with the bathroom light on.
Copyright 2018 The Lawrence Journal-World. All rights reserved. This material may not be published, broadcast, rewritten or redistributed. We strive to uphold our values for every story published.