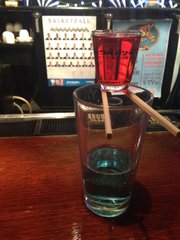 The Hawk Bomb is a school spirit experience, and not at all a drink for those concerned about taste or class.
The bartender will pour a shot of the finest UV Blue vodka into a glass and mix it with a couple dollops of Sprite. You are given this glass, a shot of UV Red, and a pair of chopsticks to set up the contraption, with the shot glass on the sticks hovering above the blue mixture.
Although you are entitled to create your own chant, the most popular is a series of "Rock Chalk, Rock Chalk, Rock Chalk, JAYHAWK," which you yell as loudly as you can muster without embarrassing yourself.
End with a heavy pounding on the wooden bar to cause the shot glass to drop into the large glass, and chug this sugary concoction as quickly as you can (and before your friend finishes). No shame in this game.
The hard stuff: Two shots of vodka — Raspberry and Cherry UV.
Where it's served: Yokohama Sushi, 811 New Hampshire St.
What it costs: $2.50
Other libations at this location: Wines and champagnes as well as signature cocktails that change depending on the season and bartender who generally has two specialty drinks planned each night they are working. Sake is the special at this Japanese restaurant, working the rice wine into traditional drinks like Sake on the Beach, Bloody Maruko (a Bloody Mary with sake), or a sake Horse Feathers.
Copyright 2018 The Lawrence Journal-World. All rights reserved. This material may not be published, broadcast, rewritten or redistributed. We strive to uphold our values for every story published.