Photo Gallery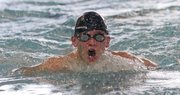 LHS, FSHS swimming
Despite nearly a month between meets due to winter break, Free State High's boys swimming team showed no signs of a layoff.
The Firebirds won all 11 swimming events and cruised to a team title at the five-team Lawrence Invitational on Wednesday at Lawrence High.
"We looked pretty strong," said junior Josh Terrell, who won the 200-yard individual medley and qualified for the state meet. "The whole team looks like we're going to have a good rest of the season, so I'm pretty excited."
Senior Canaan Campbell qualified for the state during both of his victories in the 500-yard freestyle and the 100-yard backstroke, while also swimming the backstroke during the Firebirds' win in the 200-yard medley relay.
Freshman Jordan Portela won the 200-yard freestyle and 100-yard butterfly, qualifying for state in each event. FSHS also served as some of its best competition, as senior Hunter Robinson beat out teammate Kyle Yoder by .11 seconds to earn a win in the 100-yard breaststroke.
"I'm really excited that the boys swam well," Firebirds coach Annette McDonald said. "A lot of people actually did drop time. We set some goals, and I saw a good majority of the kids attain those goals. Now we have to set some new goals so we can reach those."
Junior Jack Ziegler won the 50-yard and 100-yard freestyles, while setting a personal-best time of 51.99 in the 100.
"I was pretty happy with the meet," said Ziegler, who earned consideration for the state meet in the 100-yard freestyle. "This isn't one of the fastest pools, but we had some good times and we had some new guys on the team that really helped boost confidence. It was a good day."
Firebirds freshman Chad Bourdon qualified for the state meet in one-meter diving, after entering the year with no diving experience. Although he had state aspirations all along, he said, "This feels a lot better" than he imagined it would.
Junior Nolan Stoppel also earned state consideration in the 50-yard freestyle, while also swimming the second leg in Free State's .10-second win over Bishop Miege in the 200-yard freestyle relay.
"I think we're right on schedule," Terrell said. "We have some room for improvement, but I think we're going to get there, and then by the end of the season, we're going to be right where we want."
Lawrence High finished in fourth place but was highlighted by its 200-yard medley relay and 200-yard freestyle relay teams, which earned consideration for state with solid times.
"We're a pretty new team to swimming, and looking at the results, almost everybody improved and it wasn't just a little bit, it was a lot," Lions coach Kent McDonald said. "It was surprising actually."
Lions senior Tristan Hantula shaved nearly five seconds off of his qualifying time during his seventh-place finish in the 200-yard freestyle, while sophomore Chase Odgers and senior Darren Rawlings were able to put up top-10 finishes in the 100-yard freestyle and 50-yard freestyle, respectively.
"It makes me feel good," said Odgers, who swam the third leg in the 200-yard freestyle relay. "I'm happy I did good. I'm even more happy for all of the other kids on the team who even got more drop on their times."
Copyright 2018 The Lawrence Journal-World. All rights reserved. This material may not be published, broadcast, rewritten or redistributed. We strive to uphold our values for every story published.