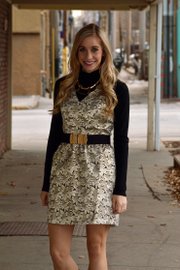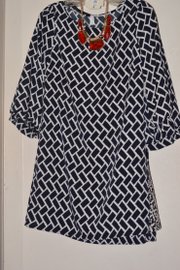 Even with the holidays behind us and a new year ahead, there's still room for a little sparkle as we finish out the winter season. Whether it is a winter wedding you have to attend, a black-tie event, or even a small dinner party, it's always a good idea to have a wintery dress in your wardrobe.
When I think of winter dresses, I imagine metallic finishes, sequins, bold patterns, darker tones and anything that sparkles. Britches, 843 Massachusetts St., has a wide variety of winter frocks that can be versatile enough for dressy or casual occasions.
Elizabeth and I searched for a wintery dress that would not only be fabulous on its own, but also a great layering piece. We're always searching for pieces that can serve more than one purpose — that way you can get the most mileage out of that piece and you don't feel like you are throwing money away. We found a shimmery metallic dress that was definitely suitable for winter events. It was made of a lightweight material and had a structured fit.
My favorite thing about this dress was the gold metallic finish and quality of material. It's the type of dress that you can sit in for hours and it won't wrinkle. I already had on a basic black turtleneck T-shirt, so I decided to layer the dress over the turtleneck based on the freezing temperatures we've had to endure.
The dress could also be worn sans turtleneck and black tights. I accessorized with a belt and a statement necklace to dress it up a little more.
Like I said, Britches has endless dress options, so my search didn't stop there. We also spotted a chevron print shirt-dress that was constructed with a lightweight chiffon fabric, and paired it with a bold necklace. You could dress this up with tights, heels and a wool coat for any winter outing. As the weather becomes more tolerable, you could toss out the tights and go for a more casual look of flats and a light jacket.
I love a bold print because it can be worn pretty much any time of the year. This chevron dress can easily be transitioned into your spring wardrobe so, again, you're getting the most out of it.
— Emily and Elizabeth Kennedy are twin sisters and fashion bloggers who share a blog called Fashion Column Twins. They can be reached at fashioncolumnblog@gmail.com.
Copyright 2018 The Lawrence Journal-World. All rights reserved. This material may not be published, broadcast, rewritten or redistributed. We strive to uphold our values for every story published.