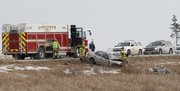 One person died in a two-vehicle crash Wednesday morning near the Kansas Turnpike's Lecompton exit.
The victim's identity and the identity of other people involved in the crash, reported at 6:50 a.m. at North 1800 Road just north of the turnpike, has not been released by the Kansas Highway Patrol.
A vehicle eastbound on North 1800 Road crossed into oncoming traffic and struck another vehicle in the westbound left turn lane, according to the KHP's online crash log.
Copyright 2017 The Lawrence Journal-World. All rights reserved. This material may not be published, broadcast, rewritten or redistributed. We strive to uphold our values for every story published.