Contact KU and higher ed reporter Sara Shepherd
Have a tip or story idea?
---
More stories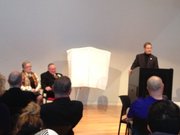 When former Kansas University provost David Shulenburger was faced with a leadership vacuum at the university, he often turned to Fred Pawlicki.
Pawlicki served in a string of administrative jobs at KU, the most recent of which was the executive director of KU Continuing Education, which offers professional and non-credit courses across the state. His role there, and a career at KU that has lasted more than 20 years, was celebrated Wednesday by friends and colleagues as it came to an end.
A retirement party for Pawlicki at the Lied Center Pavilion brought in those who had worked closely with him to speak about his career.
Pawlicki began at KU in 1992. Before taking the lead position at KU Continuing Education, he served as director of operations, associate director and interim executive director of the Lied Center of Kansas as well as interim executive director of the Spencer Museum of Art.
In an interview, Pawlicki said he was often picked because of his experience in the private sector, which included a background in construction management and real estate.
"I come from a business background, and what we do in the arts is business," he said. With Continuing Education, Pawlicki said Shulenburger asked him to come aboard to "make it more of an entrepreneurial organization," that could pay its own way.
At the event KU Provost Jeffrey Vitter, who said Pawlicki was one of the first people he met after joining KU in 2010, announced Pawlicki's status as executive director emeritus with the university.
Other colleagues heaped thanks, praise and gifts on Pawlicki. Jim Peters, director of the Osher Lifelong Learning Institute, a part of KU Continuing Education that offers courses to people over 50, presented Pawlicki with a lifelong membership to Osher.
Those who worked with him said that Pawlicki worked as a collaborator, not a heavy-handed boss. "You inspired us to be courageous and bold," said Soma Chakrabarti, director of the Continuing Education Aerospace Short Course Program. "You are a mentor, a friend, a leader and a colleague."
Copyright 2018 The Lawrence Journal-World. All rights reserved. This material may not be published, broadcast, rewritten or redistributed. We strive to uphold our values for every story published.