Contact KU and higher ed reporter Sara Shepherd
Have a tip or story idea?
---
More stories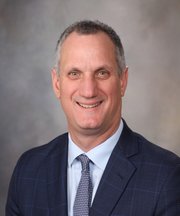 Kansas University has named a professor of medicine at the Mayo Clinic as the new executive dean of the KU School of Medicine, the university announced Tuesday.
KU picked Robert Simari to replace Barbara Atkinson, who retired from the dean position in the summer 2012. Douglas Girod, KU Medical Center executive vice chancellor, has been serving as interim dean.
Simari said his first major task as dean will be getting an insider's view of the medical school, which has campuses in Kansas City, Wichita and Salina. "I've got a lot to learn," Simari said. "It's a very complex organization."
From there he will work on filling open chairs within the school, which include chair of the Department of Otolaryngology–Head and Neck Surgery. Simari will also apply for a medical license in Kansas and join the KU Medical Center's practice, seeing patients on an intermittent basis.
Simari visited the medical center's various campuses in October and gave a presentation to students, faculty and staff at the main campus in Kansas City, Kan. The visit was a kind of homecoming for Simari, who graduated from Shawnee Mission West High School in Overland Park and received his medical degree from KU.
After graduating from the KU School of Medicine, Simari went to Harvard University's Beth Israel Deaconess Medical Center and the Mayo Clinic for residencies. As a professor at the Mayo Clinic College of Medicine in Rochester, Minn., Simari worked on developing understanding and treatments for cardiovascular disease.
Simari is also co-director of the Mayo Center for Clinical and Translational Sciences, and he co-founded Anexon, a company that has licensed technology to help protect kidney function during heart failure.
A search committee chaired by Richard Barohn, chair of the Department of Neurology at the KU Medical Center, helped find and interview candidates. Simari was one of three finalists to visit KU campuses and present at the medical center.
In a statement Girod said of Simari: "He brings a diverse set of skills and a record of innovation to his new position. He is also an alumnus of the KU School of Medicine with a deep commitment to improving the state of health in Kansas."
Copyright 2018 The Lawrence Journal-World. All rights reserved. This material may not be published, broadcast, rewritten or redistributed. We strive to uphold our values for every story published.