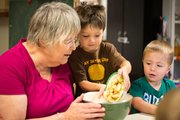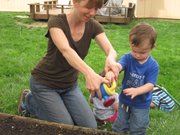 If you go
Sunday Soiree: A Charity Event for Healthy Sprouts is planned for 3 to 6 p.m. Jan. 26 at Abe and Jake's Landing, 8 E. Sixth St. Tickets are $30, or $50 for two, and can be purchased at the door or online at www.dccda.org/food-education.shtml.
Healthy Sprouts, a countywide farm-to-preschool program, is closer to securing funding to operate another growing season but is seeking more community support to sustain it long term.
The organization reported in November that lack of money threatened to discontinue its primarily grant-funded program, which is beginning its fourth year. Healthy Sprouts has since received $37,000 of its minimum goal and hopes an upcoming fundraiser and additional donations will close the gap, the program's Farm-to-Preschool Coordinator Emily Hampton said.
With $50,000, the amount Healthy Sprouts operated on its first two years, the program will be able to continue through August, Hampton said. She said securing $75,000, the amount the program had last year, would be ideal.
Since November, money came in the form of a $25,000 grant from the Kansas Health Foundation, a $6,000 grant from Bill Self's Assists Foundation and $6,000 in donations from the community. A fundraiser is planned for Jan. 26 at Abe and Jake's Landing.
Healthy Sprouts — formerly Families, Farmers and Educators United — is part of the Douglas County Child Development Association.
The program works with about 1,000 preschool children a year at 30 in-home day cares and eight day care centers, Hampton said. Activities include planting vegetable gardens, teaching children and their parents about growing food, organizing community supported agriculture programs that pair local farmers with day care centers, organizing taste tests, cooking with kids and teaching childcare providers about locally grown food.
The Ballard Community Center preschool in North Lawrence is one of the participating child care centers.
"It is so important for kids to be a part of growing their own food, seeing where it comes from," Ballard's Family Connections Coordinator Paige Welch said. "It not only gives them something active to do, but it helps them to try different things and to be made aware of what you should eat, what you shouldn't eat, and how things taste."
"They get so excited about it."
Hampton said Healthy Sprouts wants to establish a sustainability committee this year to explore ways to financially sustain the program long-term. Child care centers and providers have not paid for services in the past, she said, but establishing a fee structure is a possibility.
The bulk of Healthy Sprouts' budget pays salaries for its two employees, Hampton and Family Engagement Facilitator Melissa Freiburger. It also pays for gardening supplies, educational materials and community events.
Kids form eating habits by age 3 to 5, so reaching them even before farm-to-school programs is beneficial, Hampton said.
"Farm to preschool is just now starting to pop up around the country," she said. "People are recognizing that you really have to start young."
Copyright 2018 The Lawrence Journal-World. All rights reserved. This material may not be published, broadcast, rewritten or redistributed. We strive to uphold our values for every story published.