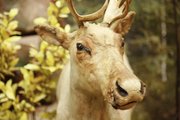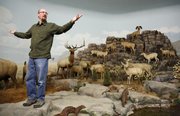 The Kansas University Natural History Museum has begun to restore its treasured wildlife panorama, but museum officials say they have a long road ahead.
KU's Dyche Hall has housed the 360-degree panorama since 1903. The building is now equipped with tools such as LED lights and temperature controls to preserve the specimens, but Leonard Krishtalka, who oversees the museum as director of the KU Biodiversity Institute, said the exhibit was not so lucky during its early years.
"The panorama suffered deterioration from temperatures, light and humidity before the building was fitted for preservation," Krishtalka said. "It was installed in 1903, so we're talking at least half a century of fluctuating temperatures and degradation."
The first step in the restoration process was completed in December when researchers from Tuckerbrook Conservation LLC, of Lincolnville, Maine, conducted a chemical analysis of the exhibit.
KU professor and taxidermist Lewis Lindsay Dyche first prepared the panorama of wildlife around the globe for the 1893 World's Fair in Chicago. Krishtalka said dangerous chemicals were used in taxidermy.
"Taxidermy at the turn of the century used many chemicals we now know to be toxic, such as arsenic," Krishtalka said. "This first analysis let us make sure they are wearing the right gear during future assessments."
The next assessment will begin in March, when researchers will analyze the 120-year-old exhibit piece by piece for indications of degradation such as the splitting animal hides or loss of color in background paintings.
Krishtalka said the researchers will conduct a superficial cleaning of the specimens. The specimen-by-specimen analysis should be completed by mid-summer 2014.
The conservation assessment was made possible by a $50,000 challenge grant issued in 2012 by KU alumni Kent and Janet Martin McKinney. The museum then raised enough to meet the $100,000 goal through private donations last year.
Once officials receive the results of the deterioration assessment, officials will determine how to move forward with the restoration. While details have yet to be discussed, Krishtalka said he sees the project as an opportunity to update the century-old exhibit to modern tastes.
"Visitors can imagine the public's reaction at the World's Fair who were as awed by nature and its diversity as we are today," Krishtalka said. "We want to strike a balance of preserving history with adaptations to make the display more entertaining to a modern audience."
Copyright 2017 The Lawrence Journal-World. All rights reserved. This material may not be published, broadcast, rewritten or redistributed. We strive to uphold our values for every story published.