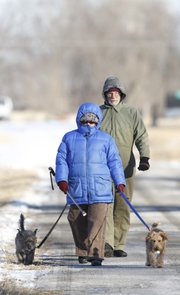 Most of the state is expected to experience a frigid mix of sub-zero temperatures and wind gusts of up to 25 mph Sunday and Monday, according to the National Weather Service.
As Lawrence residents prepare themselves for this "Arctic outbreak," they are urged not to forget their four-legged family members.
"They can get Hypothermia, frostbite, the same things we are at risk for, no matter what breed they are," said Wendy Rawley, a veterinarian technician at Lawrence Veterinary Hospital. "With the cold weather we're going to have the next two or three days, dogs should not be left outside or unattended."
The weather was mild late Saturday morning, with sunny skies and temperatures around 40 degrees. Daniel Wagner, of Lawrence, and his miniature poodle, Cooper, walked along Massachusetts Street, getting some time outdoors before the cold set in.
Though low temperatures don't seem to bother Cooper too much, Wagner said, he does wear a sweater on cold days, and he goes on fewer walks during the winter months.
"He likes the cold more than I do, but he did have to wear his sweater yesterday," Wagner said.
In addition to dressing dogs in sweaters or coats and shortening walks, the American Veterinary Medical Association suggests keeping pets well fed and making sure they have access to fresh, non frozen water.
The American Kennel Club advises rinsing and drying a pet's feet after time spent outdoors, as common deicers may be toxic or irritate footpads.
And Rawley warns that cats, when let outdoors, will often seek shelter near the engine of a car. Rawley said that if a cat is missing, to bang on the top of a vehicle before turning it on.
Though there are measures that can be taken to keep outdoor pets safe, Rawley stresses the importance of keeping them indoors while the temperature is below freezing.
"Unless they have a totally enclosed area and are not getting hit by the elements, they should be inside," Rawley said. "They can be affected by the cold just as fast as we can."
Indoors is where Raven Rajani plans to keep her dogs on Sunday.
Rajani, the owner of Lucky Paws Bakery, said she and her pets would be abandoning their daily routine of walking the trails near Clinton Lake because the temperatures may dip too low for the dogs, which are all short-haired breeds.
"None of them have the coats that would support being that cold," Rajani said. "They have more fleece sweaters than I do, but we'll just try to stay inside if it's that bad."
Copyright 2018 The Lawrence Journal-World. All rights reserved. This material may not be published, broadcast, rewritten or redistributed. We strive to uphold our values for every story published.