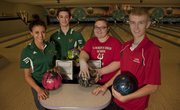 The Lawrence High and Free State bowling teams will begin their seasons at the FSHS Invitational today at Royal Crest Lanes.
The home venue will be warmly welcomed by the Lions and Firebirds for the first competition of the season, as neither team was allowed to start organized practice until Wednesday.
"Everyone knows the lanes pretty well," LHS sophomore Miranda Krom said. "I think everyone will be kind of nervous for the first meet, but I think eventually we will all get settled in."
Krom is one of two returning state qualifiers for the LHS girls. Senior Kierstan Warren is the other. Warren is a two-time qualifier and has high expectations for today and the season as a whole.
"We're going into our first tournament Saturday as the champions from last year, both girls' teams, varsity and JV," Warren said. "Hopefully we can all go to state this year instead of having a couple of girls or just one. All of us need to step up and bring our game."
The LHS boys will look to defend their 2013 Sunflower League championship behind the leadership of senior Tre Sexton.
Lions coach Paula Bastemeyer said she believed there would be freshmen who could contribute at the varsity level and also that junior Ivan Davidson would continue to grow and be a leader on the team.
"(Davidson) tried out for us as a freshman, and we cut him because he wasn't good enough," Bastemeyer said. "He came in as a sophomore and bowled JV, but we had him up on varsity by the last half of the year. He just turned in his scores (from winter break), and he's averaging about 200."
The Firebirds' boys squad also had its fair share of success in 2013, placing sixth as a team at state. FSHS returns three state qualifiers: senior Briggs Fish, junior Eric Glogau and sophomore Matthew Eagle.
Eagle is confident the Firebirds can build off last season's success, but he said it will not be easy.
"We lost a lot of seniors last year, so to come back from that, we will have to practice really hard," Eagle said.
Seeing the boys qualify for state last season was even more motivation for junior Brianne Martin to lead the Free State girls to try to do the same thing this year.
"The past few years, I've been so close to making it to state," Martin said. "Like last year, I was one place away from making it, so now I just really want to make it."
Martin said that today's tournament will be different than any other the Firebirds will compete in during the season because of the Baker format. With five-person teams, each bowler will have two frames per game. The first person will bowl frames one and six, the second will have two and seven and so on.
"We usually do pretty good in it," Martin said. "It is more fun for us, I feel like ... it's not anything that we are worried about."
While Free State coach Burton Gepford is looking forward to today's 12-team tournament, he stressed that the Firebirds would have to think of the big picture.
"We need to spend our time wisely at practices," Gepford said. "For the sport of bowling, you only get two months for the season, so you have limited time. Our goal at practice is to stay focused and improve our game."
Copyright 2018 The Lawrence Journal-World. All rights reserved. This material may not be published, broadcast, rewritten or redistributed. We strive to uphold our values for every story published.