Photo Gallery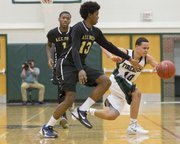 FSHS boys vs. ACC Prep
Box score
Free State (66)
Blake Winslow 2-4 0-0 4, Cole Moreano 4-5 0-0 10, Keith Loneker 1-1 0-0 2, Weston Hack 1-1 0-0 3, Reshawn Caro 1-5 3-4 5, Khadre Lane 5-5 1-2 11, Keegan McKinney 5-5 0-0 13, Tristan Garber 1-3 2-2 5, Justin Narcomey 2-4 2-2 6, Innocent Anavberokhai 1-3 0-0 2, Shannon Cordes 1-3 2-2 5, Andrew Keating 0-1 0-0 0. Totals 24-40 10-12 66.
K.C. AC Prep (30)
Keshawn Oliver 0-2 0-0 0, Devin Brown 1-3 0-3 2, Vance Taylor 0-1 0-0 0, Robert Verge 1-2 4-6 6, Avery Marshall 1-5 0-0 2, Tevon Robertson 1-3 2-2 4, Juan Johnson 4-12 0-0 8, Antwain Webb 0-0 0-1 0, Ken Flowers 3-7 1-2 8. Totals 11-35 8-17 30.
K.C. AC Prep 3 7 10 10 — 30
Free State 21 16 14 15 — 66
Three-point goals: KC AC Prep 1-9 (Flowers); Free State 8-16 (McKinney 3, Moreano 2, Hack, Garber Cordes). Fouled out: None. Turnovers: KC AC Prep 13, Free State 11.
-->
-->
Free State High's boys basketball team opened the new year by putting any offensive trouble that it had in its last few games behind it.
Whether the reason was playing against a softer defense or a new year's resolution, it worked, as the Firebirds shot 70 percent in the first half on their way to a 66-30 victory over Kansas City (Mo.) AC Prep on Friday at FSHS.
"We've been shooting the ball a lot in practice, and it paid some dividends for us tonight," Free State coach Chuck Law said. "We got some guys who can really shoot, and I've been disappointed in the first four or five games, frankly, how we've produced from the perimeter."
FSHS (4-2) jumped to a 21-3 lead in the first quarter. Junior Keegan McKinney drained three three-pointers in the frame on his way to a game-high 13 points. McKinney also took a couple of charges and grabbed a team-high seven rebounds.
"Keegan McKinney played the best game that he's ever played," Law said. "If you were going to give the unselfish badge tonight, you know Keegan did whatever it takes — taking those charges, making those open shots, doing all kinds of things in terms of communication and leadership on the court."
McKinney added: "Coach told me that charges are probably my best defensive attribute. I'm not a shot-blocker. I'm not one of the quickest guys. So if I can do my part and take the charges on the defensive end and help my teammates that way, I'm going to do it."
The offensive success was a welcomed change for Free State after its offense disappeared for long stretches in a loss to Lawrence High before winter break. McKinney, who has struggled shooting the ball this season, said he worked with senior Cole Moreano during winter break to regain his form.
"That was really tough," McKinney said. "So we were all upset after that one, came back to work that first practice, and we were ready to go."
The Firebirds made eight of their 11 shots in the first quarter, including five of six from three-point range.
"They gave us some looks with that zone, and obviously you still have to make it," Law said. "I'm not taking anything away from our guys, but I expect our guys taking those shots to make those shots. We talk about that all the time at practice. Anybody can shoot it. We need guys who can make it."
In the team's first game back on the court since its loss to LHS, Moreano scored the Firebirds' first five points before Khadre Lane scored the next four, helping the team jump to a 9-1 lead.
"When Weston (Hack) and Keith (Loneker) were giving me good looks like they were, I've got to make the shots," said Moreano, who ended up with 10 points.
In the second quarter, Lane scored six consecutive points in two minutes with three emphatic dunks that Kansas City (1-7) players were still talking about as they exited the gym. Shannon Cordes pushed the halftime lead to 37-10 with a buzzer-beating three-pointer.
"The basketball went in today," Law said. "It was a pretty easy game to play in the first half, especially when we got going a little bit. When the ball's going in, it sure covers up a lot of your other mistakes and shortcomings, but I thought we did OK."
While the defense wasn't as sharp in the second half with a big lead, it opened the third quarter with the same precision it had in the first two quarters.
Kansas City was forced into three turnovers in the first three minutes of the frame, and senior Innocent Anavberokhai, Moreano and Loneker provided the offense in a 8-1 run.
The Firebirds ended up with 11 scorers and shot 60 percent from the field.
Free State will head to Shawnee Mission East on Tuesday.
Copyright 2017 The Lawrence Journal-World. All rights reserved. This material may not be published, broadcast, rewritten or redistributed. We strive to uphold our values for every story published.