Around the time most of Lawrence is heading to work or school Monday morning, it will feel like 20 to 30 degrees below zero outside.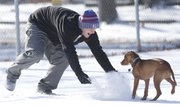 Say hello to the term "Arctic outbreak."
That's what forecasters are calling frigid temperatures expected Sunday and Monday in Lawrence and across much of the country, said Bill Gargan, meteorologist with the National Weather Service in Topeka. On top of sub-zero temperatures — which haven't been recorded in Topeka since the mercury hit minus 9 in 2011 — expect unremitting wind to make it feel even colder, Gargan said.
Here's the National Weather Service forecast for the next few days in Lawrence.
Today: High 33, overnight low 10, overnight wind chill minus 7.
Sunday: High 13, overnight low minus 9, overnight wind chill minus 29.
Monday: High 6, overnight low minus 2, overnight wind chill minus 16.
Tuesday: High mid-20s, overnight low 19.
Snow is expected this afternoon and evening, but accumulation probably won't be more than 1 inch, Gargan said.
Water pipes
It's already gotten cold enough to freeze pipes, so come Sunday and Monday there's a definite risk, said Mike Capra, owner of Vito's Plumbing at 645 Locust St. Close up any holes letting cold air into places it shouldn't go, such as exterior vents to crawl spaces or gaps in your home's exterior. If you've had problems in the past, leave a faucet running — turning on both cold and hot water lines — at a pencil-width trickle.
Frostbite
Frostbite can occur when temperatures dip past freezing and can lead to, in severe cases, amputation. People with reduced blood circulation and those not dressed in warm enough clothing are at increased risk.
At the first sign of redness or pain, people should get out of the cold and cover any exposed skin, according to the Kansas Department of Health and Environment. People may not even notice frostbit areas, since they are often numb.
KDHE has advice for people with frostbite but who don't have hypothermia or need immediate medical care: Get into a warm room; immerse the affected area in warm (not hot) water or warm the area using body heat from another body part; don't walk on frostbitten feet or toes; don't massage the area or rub it with snow; don't use a heating pad, heat lamp or heat from a stove, fireplace or radiator, as the affected areas are numb and can be easily burned.
Pet care
How well pets can handle the cold weather often depends on factors like breed and fur style, said Christine Newman, veterinary technician at Lawrence's Gentle Care Animal Hospital. "So if it's below freezing, keep them inside, or if you're in doubt, keep them inside," she said. "If you're getting cold, they're definitely cold."
Short-haired breeds like boxers and pit bulls aren't able to tolerate the cold as well as thick-furred dogs like shepherds, though owners of the latter should watch out for mats getting frozen, Newman said.
People should also keep house cats inside when it's really cold as they will seek warm shelter and could get lost, she added.
The Lawrence Humane Society, meanwhile, warns people not to leave pets in the car when it's very cold, as that can be considered neglect.
Cars
Cold weather is a test for car batteries, and a weak battery is likely to fail, said Micah Garber, owner of Garber Automotive Inc., 2216 W. Sixth St. Presuming your car does start, let it warm up before you hit the road.
"It can be detrimental to hop in a cold car with these kinds of temperatures and immediately take off," Garber said. "Transmissions don't like it. It's like you getting out of bed in the morning and taking off at a dead sprint."
Also watch tire pressure, as cold weather causes them to lose air, Garber said. And make sure antifreeze levels are adequate and that the antifreeze you use has a good engine protection level.
It's also a good idea to keep blankets in your car in case you break down and to keep your cellphone charged.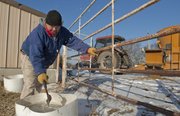 Agriculture
Local wheat farmers shouldn't have too much to worry about with the cold weather, said Bill Wood, director of Douglas County Extension. Soil in the area is fairly moist, particularly compared with other areas of the state, where wheat fields are drier and at greater risk for damage from cold weather, he said. Wheat is also at risk if there is insufficient snow cover to insulate it from the conditions.
Wood said there's a reason wheat is grown in the winter, as it has to get down to a certain temperature to acquire the ability to flower.
"Wheat is a pretty tough crop," he said, adding that cold weather is a greater concern in the spring, when plants begin to mature. "Wheat is like cats: It's got nine lives. It can take pretty tough weather and still be OK."
Copyright 2018 The Lawrence Journal-World. All rights reserved. This material may not be published, broadcast, rewritten or redistributed. We strive to uphold our values for every story published.