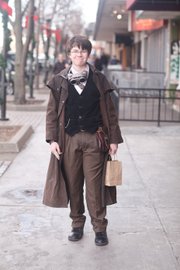 Name: Devan Ryan
Age: 15
Hometown: Kansas City
Time in Lawrence: Six months
Favorite subjects: Science and art
Hobbies: I play a lot of video games and I love to build things out of random scrap material.
Dream job: I don't really know. Nothing really stands out now.
What were you doing when scouted? I was doing some shopping for family and friends.
Describe your style: Well, I don't always wear what I am wearing, but I'm big into the steampunk culture. It's a combination of the Victorian era with the future. It's very interesting!
Fashion trends you love: Currently, no. That's why I'm wearing what I'm wearing right now. I like a lot of the older clothing but I do like futuristic stuff like my goggles and this bandolier type of vest. But there's not much in modern fashion that interests me.
Fashion trends you hate: There's nothing in particular that I really despise. I'm not big into fashion.
Fashion influences: Books, movies and video games.
What would you like to see more of in Lawrence? Lawrence doesn't need more. I think it's a great town! That's one of the reasons I'm comfortable wearing this (outfit) here. I feel it's more acceptable, plus there are a ton of interesting things here in Lawrence.
Less of? Big buildings. The older and smaller buildings give downtown the nice feel that it has.
Whom do people say you look like? I believe that someone said that I look like Harry Potter once but I don't think so.
What type of music do you unwind to? Classic rock, electronica and steampunk.
Tell us a secret: I'm an open book!
Copyright 2018 The Lawrence Journal-World. All rights reserved. This material may not be published, broadcast, rewritten or redistributed. We strive to uphold our values for every story published.