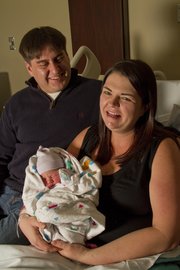 Carrie Johnson and Jesus Chacon didn't plan to have their new baby right after New Year's. But little Canela had other plans.
The baby, who was originally due Jan. 9, was born 11:20 a.m. Thursday at Lawrence Memorial Hospital, becoming the second baby birthed in Lawrence this year (the parents of the first declined to speak to the media). Canela checked in at 7 pounds, 8 ounces and 20 inches long.
"She's a sleeper so far," said Johnson, 33, as she watched her bundled, red-faced newborn nap in their room at the hospital's Birthing Center on Thursday.
So how does it feel to be new parents?
"It still hasn't hit me yet really," said Chacon, 32, though he added that it soon will once the baby starts waking him up in the middle of the night.
Canela is the couple's third (and, Johnson says, final) child, joining sisters Delilah, 6, and Madeline, 3, who visited their new sibling Thursday.
Johnson, a cosmetologist, and Chacon, who works at UPS, didn't find out about the sex of their baby ahead of time, so it took them a few hours Thursday to come up with a name. (Even then, they argued over whether it would have one "L" or two).
Were they hoping for a boy?
"Maybe slightly, but girls are always nice," Johnson said.
Johnson thought she had a week or so to go before welcoming her new child but woke up Thursday morning with signs she was going into labor. Twenty minutes after arriving at the hospital, Canela was born.
"Everything went great," Johnson said.
Copyright 2018 The Lawrence Journal-World. All rights reserved. This material may not be published, broadcast, rewritten or redistributed. We strive to uphold our values for every story published.