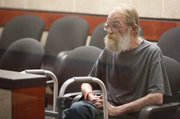 A judge on Thursday set an arraignment date for a Lawrence man accused of shooting and killing his ailing wife.
Larry L. Hopkins, 67, is scheduled to enter a plea Jan. 31 in Douglas County District Court. He is charged with first degree murder in the Nov. 5 shooting death of his wife, Margaret Hopkins, 61, at their home in the 1600 block of West Second Terrace.
Larry Hopkins appeared in court Thursday and waived his right to a preliminary hearing that had been scheduled that afternoon.
Judge Michael Malone explained to Hopkins that waiving the hearing meant he would not have the opportunity to hear evidence against him that the state could use in a trial. The judge asked Hopkins whether he understood and whether his attorney, Clinton Lee, had thoroughly explained the waiver.
Hopkins answered, "I do, your honor," and, "Yes, your honor."
Over the past decade or more, the Hopkins' house had fallen into disrepair and the couple had been dealing with health problems, a relative and neighbors told the Journal-World. They said Margaret Hopkins used a wheelchair and suffered from arthritis, diabetes, nerve damage and knee problems, while Larry Hopkins — who had heart problems and been hospitalized for a stroke — struggled to care for her.
Larry Hopkins underwent a mental health evaluation in November and was found capable of understanding the charges against him and competent to stand trial.
Copyright 2018 The Lawrence Journal-World. All rights reserved. This material may not be published, broadcast, rewritten or redistributed. We strive to uphold our values for every story published.