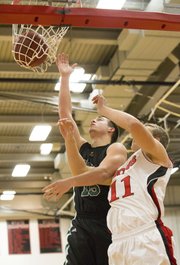 Lawrence High's boys basketball players were relaxed at practice Thursday. Free State's practices this week had a more serious tone as they prepared for tonight's City Showdown, 7 p.m. at FSHS.
The Firebirds are working to avenge their 67-48 loss on Dec. 20 at LHS. The Lions are looking for their first win at Free State since an overtime victory on Dec. 16, 2011.
"We want it to be routine and not make it anything bigger than it is," LHS coach Mike Lewis said. "We know it's exciting, we know it's a rivalry, we know we're getting into a big crowd and a big Friday night atmosphere, but it's my job to keep these guys pretty level and just focused on the task at hand."
Both Lewis and FSHS coach Chuck Law agree, December's game won't factor into today's result because of how much each squad has progressed throughout the season. Both schools have great guard play, but they also have found success with undersized players in the post.
Free State (11-8) usually has 6-foot-1 senior Keith Loneker and 6-foot senior Blake Winslow take opposing team's forwards and centers.
"I feel the games we've been successful against big post players is by playing harder than them and being a little bit more scrappy," Loneker said. "That's how we've had to play in football and that's how we've had to play here."
Loneker and Winslow were linebackers for the Firebirds football team, and the football theme continues for LHS (15-4). Sophomore Price Morgan was a starting tight end.
"Football has made me a better basketball player and basketball has made me a better football player," said Morgan, a 6-foot-2 center. "Just going out there (undersized for the post) ... you have to make up for that by being scrappy and being tough. On the football field, just being quick like in basketball. They just go hand-in-hand."
Morgan takes on the opposing forwards for most of the game, and junior Logan Applegate and sophomore Fred Brou help off the bench.
"Coach always uses the phrase 'big brother,'" Brou said. "We don't try to go in there acting like we are the smaller guys. We try to go in there with just as much confidence and try to just play big and play physical."
Morgan has handled taller and heavier opponents with a level of success. He's been able to out-hustle his opponents for rebounds and baskets inside the paint.
"We understand who he is, his strengths and his limitations," Lewis said. "We just really like who he is as a sophomore and we know he'll blossom into his junior and senior year. He works hard at it. He's young and on any given night he can show his youth, but man he can really play good basketball on certain nights, too."
When FSHS doesn't play a team with as much size up front, Loneker and Winslow are also able to match up against opposing guards, which will likely be utilized tonight.
"It's a nice luxury to have," Law said. "For the most part, they are pretty interchangeable pieces, so that gives us some flexibility on what we can do on the defensive end. We're certainly going to be tested defensively against (LHS). They've got a lot of weapons and a lot of guys that can score the ball."
The Firebirds want to make sure their Senior Night isn't a repeat of December's matchup.
"They kind of beat us up last game, so we definitely want to redeem ourselves," Winslow said. "Last year, that's how we split the series, we both won at home. So hopefully we can do that again."
Copyright 2018 The Lawrence Journal-World. All rights reserved. This material may not be published, broadcast, rewritten or redistributed. We strive to uphold our values for every story published.