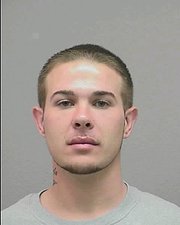 An early-morning car stop led to the arrest of a 28-year-old Lawrence man on suspicion of identity theft and felony drug charges.
Dustin Ian Lane was arrested in the 500 block of Louisiana Street following a car stop just before 1:30 a.m. Friday, according to Kim Murphree, a Lawrence Police Department spokeswoman.
Murphree said the officer who stopped Lane recovered an undetermined amount of a "green leafy product" and drug paraphernalia. Murphree said the officer also discovered identification documents before arresting Lane.
Lane was booked into Douglas County Jail early Friday morning and is still there on a bond of $8,050. In addition to identity theft, Lane faces felony possession of a controlled substance and felony drug paraphernalia charges. He also faces charges of interference with law enforcement and misdemeanor drug possession.
In 2008, Lane was sentenced in Douglas County in connection with a 2007 aggravated assault charge and battery charges from 2006; he was released from prison in 2011.
Copyright 2018 The Lawrence Journal-World. All rights reserved. This material may not be published, broadcast, rewritten or redistributed. We strive to uphold our values for every story published.