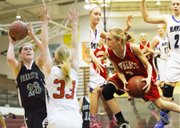 Lawrence High senior Kionna Coleman and Free State High senior Scout Wiebe have provided a lot of highlights in the City Showdown over the past few years.
Wiebe has scored 14 points per game over the last four City Showdowns, while Coleman has topped her with 14.3 points per game.
The Firebirds won the latest chapter, 60-56, in December at LHS to extend their winning streak to nine games over the past four seasons. Coleman scored a game-high 24 points.
"It's exciting," Wiebe said. "I love playing against Lawrence High. It's one of my favorite games."
Although both Coleman and Wiebe will leave their mark in their final City Showdown at 5:30 p.m. Friday at FSHS, it's evident that several of their younger counterparts are waiting for their turn to make a mark.
Free State (8-11) freshman Madison Piper scored 18 points in the first City Showdown this season and is second in the Sunflower League with 15.6 points per game during league play.
"Her skill set and ability to play has been strong from Day One," FSHS coach Bryan Duncan said. "She certainly stepped up her ability to take a leadership role with the team, which is extremely difficult to do as a freshman, but she's respected and liked enough where it hasn't been an issue at all."
The Lions (6-13) had three freshmen combine for five points on 2-of-7 shooting in the first City Showdown, but they can probably be counted on for bigger contributions this time around.
Skylar Drum is the team's starting point guard after junior Marissa Pope suffered a left foot injury that has sidelined her for four games. Jaycie Bishop made her way to the starting lineup as a three-point specialist before suffering a concussion that has knocked her out of the last five games, and Olivia Lemus has provided a spark defensively off the bench as she still develops on offense.
"It's been really cool to see their growth from the beginning of the season to now," LHS coach Nick Wood said. "They've all had great moments, and they've all had moments where they've kind of hit that freshman wall and had to fight through that barrier. But they've been great."
Drum has withstood double-teams and has gained plenty of advice from Pope, who hopes to return for Friday's game. It was a big change for Drum, who went from a few minutes per game to the driver of the team's offense.
"As a coach, sometimes it's hard to step back and realize, 'Wait a minute, they are just freshman, and I'm asking a heck of a lot out of them to play 6A basketball in the Sunflower League,'" Wood said. "I have to realize that myself sometimes, but our seniors have done an awesome job of making our freshmen feel comfortable."
Whether it's Piper or the trio of freshmen for the Lions, it's clear the standard of play set by Wiebe and Coleman will continue in the rivalry.

"I've been really happy with their competitiveness every single night," Wood said. "They never backed down. There was never a moment when they were out on that floor that I thought, 'They're not ready, they can't handle it.' That never happened. ... They just went out there and just played the game of basketball."
Copyright 2018 The Lawrence Journal-World. All rights reserved. This material may not be published, broadcast, rewritten or redistributed. We strive to uphold our values for every story published.