Photo Gallery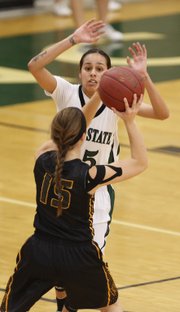 Free State girls basketball v. Shawnee Mission West
Images from Tuesday night's game between the Free State and Shawnee Mission West girls.
Box scores
Shawnee Mission West 51, Free State girls 41
FREE STATE (41)
Lauren Johnson 0-2 0-0 0, Adriana Jadlow 3-8 1-2 7, Scout Wiebe 5-11 2-3 13, Madison Piper 5-11 1-2 13, Millie Shade 2-5 0-0 6, Maren Kahler 0-2 0-0 0, Hannah Shoemaker 1-4 0-0 2. Totals 16-43 4-7 41.
SHAWNEE MISSION WEST (51)
Chloe McMahon 1-6 5-8 7, Anna Karlin 0-2 0-0 0, Morgan Mauck 3-6 1-2 7, Megan Rongish 0-1 0-0 0, Marleah Campbell 6-13 5-6 19, Kenzie Loe 7-7 4-6 18. Totals 17-35 15-22 51.
SM West 10 9 16 16 — 51
Free State 10 8 13 10 — 41
Three-point goals: SM West 2-8 (Campbell 2); Free State 5-16 (Shade 2, Piper 2, Wiebe). Fouled out: None. Turnovers: SM West 12, Free State 11.
-->
-->
Free State High's girls basketball team kept close with Shawnee Mission West on Tuesday night until midway through the fourth quarter. Then the wheels fell off.
The Firebirds have had fourth-quarter struggles before, and coach Bryan Duncan didn't have many words for his team following a 51-41 loss at FSHS.

"Right now we're a bunch of individuals playing basketball and not a basketball team," Duncan said.
Free State tied the game with 5:20 left in the fourth quarter, following freshman Madison Piper's three-pointer from the left wing. However, the Vikings scored on six of their next eight possessions.
"We just got so frustrated with each other that we played as individuals," Piper said.
SM West forwards Marleah Campbell and Kenzie Loe led a 13-3 run over four minutes, as Free State struggled to play help defense in the post and gave up uncontested layups.
Meanwhile on offense, the Firebirds (8-11) missed six of their seven shots from the field following Piper's three.
"All of the other things are products of what we just talked about," Duncan said. "They're a big team, and they slow it down, and it's hard to get inside on them and all those things. But if we were a basketball team right now, which we are capable of being, those things wouldn't have bothered us tonight."
The Vikings (11-8, ranked No. 9 in Class 6A by the Kansas Basketball Coaches Association) took a 10-point lead in the third quarter, before Piper, Scout Wiebe, and Hannah Shoemaker combined for a 6-0 run over the last two minutes.
Wiebe hit a jumper in the first minute of the fourth quarter before Piper's three tied the game.
"I did terrible this game. At the end, we just didn't play as a team," said Piper, who scored 13 points and added five rebounds. "We played as a bunch of individuals. It all started on defense, and it just wasn't a good finish."
The Firebirds trailed 19-18 at halftime after senior Millie Shade drained a step-back three-pointer at the buzzer.
SM West opened the third quarter by scoring on four of its first five possessions to take a 27-20 lead.
"I think it's our frustration on ourselves," said junior Adriana Jadlow, who scored seven points and grabbed three rebounds. "We're all just trying our best to get up for the team, get more points. But it just leads to getting us into more trouble and falling back."
Free State will face Lawrence High in the City Showdown at 5:30 p.m. Friday at FSHS.
Copyright 2018 The Lawrence Journal-World. All rights reserved. This material may not be published, broadcast, rewritten or redistributed. We strive to uphold our values for every story published.